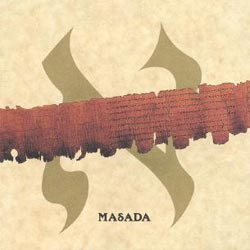 My first John Zorn record, eh? That's easy. It was The Big Gundown, and it was the very first CD I ever bought. Hearing it in flyover country in 1986, I didn't get it, but someone else has already claimed that one, so it's on to Masada's Alef. Now this one I got completely, probably because the concept of the band was my idea.
For years, I'd harbored the dream of forming a Greek/jazz band (as opposed to a jazz band of Greeks like, say, Floros Floridis'). My first generation Greek-American parents played the music a lot when I was a kid and I loved it. Moreover, I heard the jazz in it: the improvisation, the instrumental virtuosity, the basis in dance rhythms. Others had attempted this sort of fusion (ever heard Phil Woods's Greek Cooking?) but came out sounding lumpy and inauthentic, cheap goods for the tourist trade. I was after something more soulful, more authentic.
And Masada had found it, basically. I should explain that the "Jewish" elements of Masada's concept - modal harmonies, dance rhythms and some of the melodies are identical to those in Greek demotic music (as anyone who has ever worked in a wedding band in New York, Chicago or Boston can tell you). But I never found the formula that made them work as jazz.
From the first annunciatory bars of "Jair," it was clear that Zorn had, and the secret ingredient, the catalyst that fused the disparate elements together was one I would never have thought of using: Ornette. Who knew that Zorn could channel Coleman's first quartet so effectively after he firebombed the master on Spy vs. Spy?
By the time I reached "Tzofeh," with its strong modal head and noodging, finger-in-the-middle-of-the-chest rhythm, I was almost giddy with the pleasure of this discovery. It was a "slap the forehead" moment for me and I was able to abandon my bandleading plans -- probably a good thing since I hadn't played an instrument in years.
Comments and Feedback: