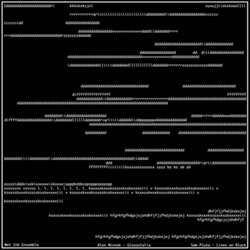 Wet Ink is a New York-based ensemble (here, Erin Lesser, flutes; Alex Mincek, saxophone; Kate Soper, voice; Eric Wubbels, piano; Ian Antonio, percussion; Josh Modney, violin; Sam Pluta, electronics) that has worked with composers including Christian Wolff, Anthony Braxton, Evan Parker and many others. This recording features two compositions by ensemble members: 'Glossolalia' by Mincek and 'Lines on Black' by Antonio.
'Glossolalia', divided into seven sections, begins true to its title with rapid, clipped (electronically, I think) vocal fragments, female, loosely embedded in flitting, precise percussion and soft, sustained tones, soon joined by an equivalent male voice and a layering of the winds and strings. That extreme precision is present throughout; one doesn't have the sense of any Wolff-ian accommodation to the performers. The general construction of melodic lines and (off) rhythms is on the austere side, sometimes reminding me of the more "classical" work of composers like Leroy Jenkins and Anthony Braxton in the 70s. The glossolalic aspect diminishes somewhat over the work's length, the general mood becoming more dour and harsh, culminating in the jagged, slightly Partch-ian portion titled, 'Isonomy'.
The ensemble's precision is once again showcased in Antonio's 'Lines on Black', in nine sections that are often solos or duos and frequently overlap. As with the Mincek work, the overall tonal character is severe, the interplay often quick and light, the interplay complex. There are jazzy allusions in the piano solo, while the voice and electronics portion sounds like it would have fit in comfortably with the theme of the prior piece — a quite intense set of ululations and frazzled noise. The adjacent flute and voice section, by contrast, is relatively serene and calm, though there's enough of a dissonance between the two elements to create some welcome uneasiness. 'On/Off' is full of disquieting effects that recall old video game ray guns, something this listener could have easily forgone, while the following section, 'Canyon', combines intriguing instrumental lines with, this time, some unfortunately spacey electronics. 'Solo with Violin', which closes the composition, combines vigorous string work with colorful, intricate percussion. Overall, the disjunctive nature of the piece made it something of a hit and miss affair.
Comments and Feedback: