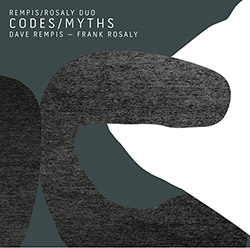 A double disc set of some truly astounding improvising from a couple of well-travelled players. Dave Rempis and Frank Rosaly have been playing together (probably off and on-they're both quite busy) since 2001. Since Rosaly now resides in Amsterdam and Rempis still lives in Chicago, they don't get together often these days. This release is a document of Rosaly's visit back home in 2018, but from the sound of it the duo are still quite connected.
The sax pops and sputs that open "Patterns In Distance" put me in mind of a malfunctioning train, the brief spaces between sputs quickly and deftly filled by a myriad of tiny (tiny!), quick (quick!) sounds from Rosaly, pitch-bent metals and raspy rolls. Slowly momentum builds and tension mounts until around the 13-minute mark, where the percussion explodes in a hail of shrapnel and the train analogy comes into sharp focus, both players chugging along, stoking the fire. Rempis keeps offering short nuggets of melody and their variations, and Rosaly keeps pace and shouts encouragement. After a nice bumpy ride we're given a simmer down leading to a beautiful Rosaly solo, all ring and gulp until a nice Dennis Charles-ish tom workout. When Rempis re-enters it's to a latin-like groove which becomes more insistent and frenetic by turns.
"Glitch" opens with sandy rustling and wind-filled notes abetted by miniature bells. The tenor interjects ballad-filled thoughts and then tosses out bop flavored runs as the drums decide against commenting overtly, at least at first. Here is a micro version of the duo's music, winding up and back down in a little over 10 minutes.
The second disc reverses the previous order and loads the short piece first. "Air In Between" definitely gives the feeling of inebriation, all spit laden squirrely tones and swishy brushes. These two are adept at occupying the same space and moving an idea forward with taste and enthusiasm. Rosaly fills the air around Rempis' notes with gong tones, ringing bowls and flap jack flipping, a cloud of percussive WTAF*; call this one an exercise in tone maintenance, a bawling display of overwrought pleading.
The closing tour-de-force "Aletheia" gets right to it, with Rosaly pushing from the get-go. Oddly placed gaps punctuate loopy melody lines as Rempis teases and Rosaly approves. I hear the echoes of some long ago John Tchicai record or something, a brief dance figure.
I should mention these improvisations are beautifully recorded, the sound of Rosaly's well-tuned kit will hold your attention alone. Everything else is icing on the proverbial cake. Big bowls of it.
*what the actual fuck?
Comments and Feedback: