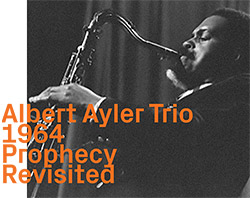 Viewed with the benefit of 20-20 hindsight, the years immediately preceding the release of this album seem to have brought a windfall of reissued 60's U.S. free jazz. As well as high profile releases such as Both Directions at Once: The Lost Album (Impulse!, 2018) by John Coltrane and Musical Prophet: The Expanded 1963 New York Studio Sessions (Resonance Records, 2018) by Eric Dolphy, a steady trickle of albums by such luminaries as Marion Brown, Coltrane, Jimmy Giuffre and Sun Ra has appeared, issued on Ezz-thetics. Of all these, though, the releases which are most welcome have to be two albums by Albert Ayler, of which Prophecy Revisited is the second, following the quartet recordings on 2019's Spirits to Ghosts Revisited.
As its title suggests, Prophecy Revisited is an expanded remastered reissue of recordings which first saw the light of day as Prophecy (ESP-Disk, 1975). Recorded live at the Cellar Café in NYC on June 14th 1964, by the stellar trio of Ayler on tenor sax, Gary Peacock on bass and Sunny Murray on drums, the ten tracks here capture Ayler during an intense period of activity which produced many albums including such highly-praised releases as this trio's Spiritual Unity, and Spirits Rejoice by a quintet. In the 90's, disillusioned with ESP-Disk, Sunny Murray issued an expanded version of Prophecy on a double album entitled Albert Smiles with Sunny (Live) (InRespect, 1996); although that album's track titles and durations differ somewhat from those on Prophecy Revisited, this release has remastered sound and — by omitting one alternative take — fits everything on one CD. One thing is certain, the remastering makes it sound far better than past releases of this music.
Where the original album had two versions of "Ghost", this album adds a third, entitled "Ghosts" but featuring the piece's distinctive head; to the original version of "Spirits", this one adds a brief reprise of its head to close the album, and it also adds a second version of "Wizard" to the original. Where some reissues are padded-out with uninspiring "previously unissued" takes, that certainly is not the case here. Although the versions begin in similar ways, after that the trio takes them down very different paths which are fascinatingly distinct. Most of all it makes riveting listening to hear the different solos which Ayler himself delivers. His playing style was always an amalgam of influences — including church music, military band music, R'n'B — but these takes demonstrate that Ayler himself was the lynchpin that tied them all together in a unique, unrivalled way. And in Peacock and Murray, he had tuned-in sidemen who followed and supported his every move. As an Ayler album, this one is hard to fault and practically impossible to better. Essential.
Comments and Feedback: