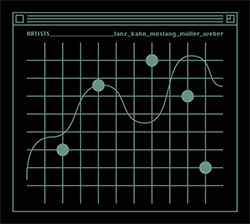 Kangaroo Kitchen consists of two discs comprised of one track each. The first, "Kangaroo Kitchen", was recorded on September 25, 2018 in a studio in Kaliningrad. The second, "Monkey Mountain", was recorded live three days later at the Mikorton Mikorten Festival in Moscow. The release is, therefore, an interesting document in its own right. Rather than a traditional album or a one-off studio session, this band of electro-acoustic alchemists have given us two batches of their strange brew. The ingredients seem the same, but the differing proportions, combinations, and emphases make for surprisingly divergent listening experiences.
The first disc/track, "Kangaroo Kitchen", is a slowly evolving blend of electronic whizzings, churning noisemakers, digital bird chirps, and innumerable other clicks, whistles, and delicate static. Instruments range from turntables to "everyday cracked electronics" to synthesizers, bass, and iPod to a revolver. At times, one hears a heavy glitch influence, as distorted sounds loop into each other, creating transient, half-articulated rhythms to form the ridged backbone of the piece. The frequent appearance of frothy voices in numerous languages and the sharp shifts in the static background create the impression of an astrophysicist at SETI painstakingly trying to pinpoint some distant radio frequency of origin unknown and whose message is likewise inscrutable. As she homes in on the broadcast, one hears cartoon noises juxtaposed with deep, splenetic bass rumbles and industrial noises, hums and squeaky melodic fragments that may or may not be reworked recordings of string instruments. Or, maybe the more appropriate image is that of a diviner in early modern Geneva, conjuring demons out of the fog in order to squeeze them of their secret incantations to defy the yet unknown laws of physics. Or, this could just be how things used to sound on certain streets in a thriving metropolis (way back when in 2019), as the listener's ear wandered between windows, pedestrians, machinery, and natural and unnatural ambience. As you can see, regardless of how meticulously construed these instant compositions are, the music lends itself to a wide range of interpretations as it comes, sometimes cut and paste, from such a variety of sources and electronic traditions. At first rather curious and intangible, the effect becomes entrancing after the first few minutes and carries on in that manner until the end.
The second disk/track, "Monkey Mountain", develops more gradually. It is also more spacious, and the individual elements are more discrete, though still deeply enmeshed with each other. It begins with a ritual rattling of chimes. High pitches collude with human voices muffled almost beyond recognizability. Weber's bass plays a more discernible role early on, and a steady percussive beat develops within the first few minutes. Sci-fi noises abound, especially as the piece periodically veers into soundscaping. The sound, however, is richer than the refracted radio explorations of the first track. The transitions are likewise somewhat smoother than those in "Kangaroo Kitchen", but only at times. As the names imply, however, "Monkey Mountain" is just as clattery and ludicrous (in its ludic as well as outlandish sense) as "Kangaroo Kitchen". That does not preclude an underlying gloam (just listen to the quite jarring digitized/synthesized child's voice at the end of "Monkey Mountain") or vision. It does, however, show that these musicians have surprising range and, within that range, can produce some pretty potent, if cryptic, sonic concoctions.
Comments and Feedback: