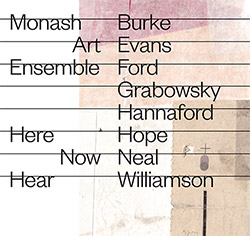 What is that? Is it room noise slowly unfiltered, the highs languidly lifted like sun after fog? Ah, it's a restaurant! A saxophone enters, slow and sultry, and it seems as if all will unfold according to historical plan until a pitch, sounding short-circuited, pops out slightly left of center. Is something wrong with the headphones? Certainly not, as that pitch evolves into a kind of electronic counterpoint, a sort of mechanized doppelganger weaving webs of polyphonic intricacy around the skeleton of Australian composer Robert Burke's aptly titled "Music and Machine" performed so expertly by the Monash Ensemble. Like the album's punning title, the non-binary music transcends time, place and history in a series of references and sub-references, perhaps the only factors holding all of this glorious art together over its two-disc trajectory.
What can be done, confronted by a recording that evolved over two years and sporting so many wonderful musicians and such a compositional scope, except to single out moment on which to reflect? As gorgeously intimate as the piano and trumpet duo is that begins Marc Hannaford's "Fainter, Stronger," the ensuing string quartet writing shocks the listener into a whole other space, the only remnant being the Webern-esque piano punctuations as the strings drone along their wild harmonic paths. Not all of the music takes itself so seriously, as witnessed by the laugh-out-loud humor of Sandy Evans' three-movement "The Drunkard's Walk." Listen to those brass-and-strings jabs and counterpunches in the opening section, often in unison, sliding rather than slamming headlong into action, as contrasted with the subversive disorder of the third movement's tail-chasing dialogue.
Best of all though, or perhaps better to say most elusive and affecting, are the vocals on Paul Grabowski's "E. E. Cummings," which opens the set. It's truly amazing that so much can emerge from a repeated tone on vibraphone, but this is exactly what happens, and Gian Slater's voice is the perfect supplement to the growing and morphing harmonies with which Grabowski surrounds it:
as is the sea marvelous
from god's
hands which sent her forth
to sleep upon the world ...
Like the sea, ever-changing, never-changing but constantly waving toward points never reached, harmonies are glimpsed but never fully realized. Slater's voice floats atop it all, the voyager in choppy waters with calm just beneath. This could describe much of the music on these generously filled discs, music whose center is as often as still and timeless as its surface is multi-generationally vibrant. The recording is absolutely top-shelf, punchy but reverberant when needed. Obvious care was taken at all stages of what is a superb project from stem to stern.
Comments and Feedback: