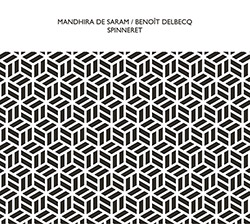 Violinist de Saram is a member of the Ligeti Quartet and pianist Delbecq has a long career working largely in free jazz terrains. While this listener had never heard the former and the latter only on a release by Silencers, on Sofa, the publicity material indicates that the normal approach of each is more active and busy than that heard there. Probably a welcome aspect, if true, as the three pieces presented, presumably all improvised, are delightful, imaginative and thoughtfully considered throughout.
The first work, "False Widow", is the shortest at about seven minutes and sets the stage wonderfully. Dark, buzzing tones from the prepared piano offset delicate wisps and dusty rasps from the strings, all mysterious and probing. Single "regular" notes from the keyboard illuminate the haze. There's an AMM-like quality in effect, a care of note-placement resulting in the convincing evocation of a palpable state of being, the two musicians fading into the music. The remaining tracks are around a half hour each and explore different territories. "Lace Weaver" begins by delving into still darker areas with low, vibrating thrums from the piano's interior enveloping thin, deliberate plucks from the violin, tentative notes from each like ginger footsteps. The duo takes its time, investigating this or that byway, always locating items of interest from the gentle, Balinese (via Cage) clangs of the prepared piano to the powdery swirls of a bow just grazing strings and the tension generated between these two properties. Midway through, de Saram generates some wonderful whistling passages, the general activity level beginning to simmer, but so naturally as to seem part of some under-dwelling process. A fine example of dealing with scale and (subtle) drama. The intriguingly titled, 'Snowberry Clearwing' (a moth, as it happens), trades in a different kind of delicacy, tinged perhaps with indistinct allusions to Japanese gagaku music, fragmentary but held together with tissue-like strands. There's a kind of languor in play, a calm liquidness, agitated just enough to keep things moving. As on the prior piece, things begin to burble as it moves on, a flurry of activity reaching the surface, causing a brief stir, then subsiding. No overt displays of virtuosity except the virtuosity of restraint.
A very fine recording.
Comments and Feedback: