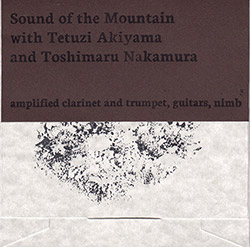 Near the end of a job interview, I was once asked to "test this". The object in question was a silver pen that one of the interviewers pulled from his pocket. I was a little nervous and went into elaborate test cases that ensure the writing utensil functions in water, upside down, without gravity — in double gravity — on multiple surfaces including an apple, and so on. The point of this question is to not assume what something is supposed to do. That is, what is this thing? We didn't call it a pen, and why are you pushing it across a legal pad? What is writing?
I think about this incident specifically every time I hear Toshimaru Nakamura's no-input mixer performances ("nimb"). He can't seem to run out of colors despite technically shaping the sound of circuit boards and some effects. Imagine him as a child, a mixing board laid out in front of him, and an uncle says, "Make sure this works". Further, let's put Elizabeth Millar and Craig Pedersen aka Sound of the Mountain and guitarist Tetuzi Akiyama on the QA team.
Pedersen and Millar make the shiny, brass tube and long, black cone speak grumpily into an electronic sound capture machine. They rain down a writhing, glottal squall whose molten fire-fall pools in the bottom range; the aesthetic goes from very wet bong rips to bamboo wood blocks knocking together. The claustrophobic ambience creates the feel of crawling on all fours in a narrow, pitch black, muddy cave. Nakamura, sort of out of character, augments the duo's efforts mostly by filling out the mix (i.e. what the contrabass had to do for cello 300 years ago). To further usurp his idiosyncratic pastoral presentation and mystical contributions to other artists' work...
I just scratched out the following: "...he juxtaposes his previous soberness by abruptly pushing faders to capacity where he hangs out — maybe a tad too long — with a harmonically multifarious long-form shriek, thus upsetting the ensemble's balance." But I thought about this passage over the last month, even when I wasn't listening to the disc. Instead of piercing or slicing, it rips the air. I A/B tested it against other choices on the distortion spectrum across genres and weapons-of-choice, and I was fascinated by its construction. Now, this gesture revs, a light in my brain flickers, and I can (almost) see something similar to the galactic squid beings in Arrival. It's terrifying, and wise, and becomes the only focus in the room, and you wonder how their crew will kill you. I get to use a word reserved for wholly exclusive moments: Sublime.
Akiyama is often independent of/invisible to members of the group for long periods of time. Visually, you could picture a cartoonish figure ambling around with no glasses, going about his business while the walls fall around him. I also can't think away the image of John Travolta's ponytail-sporting, speedball-high Vincent Vega character who, in versions of the Internet meme, confusedly looks around, not for the source of Mia Wallace's voice, but the goings-on in Kim Jong-un's zoomed-in nostril, the elevator opening in The Shining, the other side of the mirror in A-ha's "Take On Me" video, etc. The point is that, while he seems out of place and physically distant, the juxtaposition modifies awkward into curious.
The second half of the 35-minute recording opens with Akiyama's woozy string bends and scrapes, rousing a wobbling 1950s saucer hover whose peace is broken when someone knocks over a rattle. Now, the quartet grab from their diverse palette and emulate a party where one person tries to be the loudest, 100 others try the same, and you're running for the nearest warm blanket. Peeling off from each other, there are wails and bellows, the impression of a barn at feeding time, long trumpet notes, gnarly walls of crickets slamming down the others, MF'ing Temple of Doom style. Akiyama cautiously waits for swooping specters to finish picking the bones before cranking up the grit and his amp's gain knob. Busier, more crowded, noisier; trumpet and clarinet, both played "properly", stealthily sneak in the back; Nakamura once again attempts to burn down the stage while Pedersen takes over the role as disconnected wanderer through the rubble.
Right, so the root of this "sound art" business is about undoing the history of an instrument to allow freedom and possibilities to flow. These artists didn't invent the idea (actually, Nakamura did), but the collaboration here is a cruel and lovely phantom to add to the Library of Unique Textures.
Comments and Feedback: