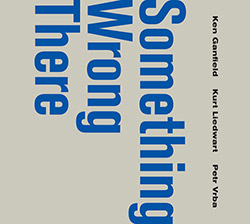 Mikroton label boss Kurt Liedwart cites literary great and Oulipo founder Raymond Queneau as an influence on his own composition and performance technique. While it would be a time-intensive endeavor to analyze and dissect the dense Something Wrong There with one of that collective's methodologies — or doing so in the way you did with Schoenberg orchestral works during grad school — a few concepts from the Oulipian philosophy resonate when reading about Liedwart's approach to the record:
•"Inspiration which consists in blind obedience to every impulse is in reality a sort of slavery." (Queneau)

• "…once the Apollonian structure has been circumscribed, Dionysus can work his magic." (Andrew Gallix, The Guardian 07-12-2013)

• "I set myself rules in order to be totally free." (Georges Perec)


To step back, Something Wrong There is culled from improvisations by electronics specialists Ken Garfield, Petr Vrba and Liedwart. The latter reworked and molded said sessions to, per Mikroton, "create (the) sonically fresh sound worlds" that he didn't achieve with the original results. In other words, Liedwart didn't trust (or put trust in?) his instincts, experimented, and came back to his rulebook. Reverse Oulipo! Don't fall into the abyss of freedom, Kurt. Anyway.
Beginning with "Unbearable", the music is a fusion of continuously churning cyclones, hyper-rhythmic and overdriven sizzles and sputters, juggernauts of low end, and harmonically loose material courtesy of modular synthesizers, laptops and hacked devices. Avoiding idiosyncratic chaos, Liedwart corrals the various maelstroms of blips and crackles into a relatively organized casing and form; think of large cruise ships, full of bodies and objects moving according to disparate whims and moods, intermittently bumping into one another near the dock.
Over chugging rumbles, warbling melodies brighten and squirm back to the shadows, returning with more fire in arpeggio form; ascending glissandi fight with scratchy twitches for attention; mechanical rain showers fill the backdrop behind junky transports armed with sonar, Geiger counters and electric telegraphs. After 20 minutes of the near-24-minute piece, the storms recede, and we're left with an ensemble of faintly pulsing bleeps, gravelly ticks and glitches, and a repeating garble that sounds like a kid imitating a rocket lift-off ("SHRRRRRRRRR"). A switch is flicked, and each element gradually powers down.
This abeyance carries into the first few minutes of the second half, "Nauseating". Gentle whirring and breathy, filtered drones swirl around an animated bed of detritus. Deep, full-figured bursts of distorted square waves pop out of your right speaker, and a tense submerged beat periodically interrupt until…
There is one reoccurring, grounding theme that pops in several times across the two works, even closing the second half. A spectral transmission, this shimmering, palpable cloud escaped a ballroom where "In a Sentimental Mood" was performed a few too many times (and is forever trapped like smoke in the walled atmosphere). Each time it hits, one is reminded of a Lortab haze, or the first shot of whiskey you spent too much on, or both of those done from the superficially innocuous bar in The Shining. Rather than integrate with the sonic palette, it stands as a looming counterpoint of tension and release to disrupt — for better or worse (I'm still not sure what to make of it) — the narrative.
Speaking of which, despite Liedwart's dislike of linear narrative (see the link in the first sentence), truly, the visual storyline this audio inspires is vast — as sound waves free from time signatures and a tonal center and purposely defying labels are prone to do; The Adventures of James Cameron in the Mariana Trench, A Tale of Two Star Destroyers, My Stratosphere Journals, and A Night in the Engine Room would be apt screenplays. As an author of 100 takes on the same anecdote, Queneau would be proud.
Comments and Feedback: