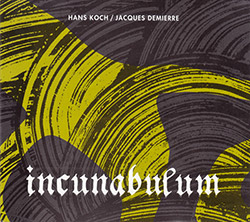 There are musicians who seem intent on avoiding any conventional playing techniques on their instruments and for whom any discernable melodies or harmonic progressions are taboo. Hailing from Switzerland, a country sporting many a radical musical thinker, Hans Koch partners here with fellow countryman Jacques Demierre in this first-time encounter on record, one that gives some credence to the opening statement of this review.
At his keyboards (the notes specifying he plays both piano and spinet), Demierre is something of a two-trick pony, one of them being the maximalist who pummels the keys and/or strings into submission, the other being the ultra-minimalist who plinks notes randomly and lets them ring. For him, it's either one or the other, and rarely, if ever, in between or both in any given piece. Like all previous efforts, he resorts to these mutually exclusive strategies: in the opening track (but there were no words), he seems to be exciting the strings to no end with one of those vibrators used by guitarists, the resultant sound being something like a zither gone haywire. Immediately following that he does the exact opposite on but we weren't prepared to enter this game of musical houses (a mouthful of a title, like pretty much all of them on this album), where he tugs a string here and another there every 20 seconds or so.
Koch, known to the cognoscenti as a third of that currently inactive Koch-Schütz-Studer unit, does not let himself be outdone in the abstraction department. With assorted key klicks and popped notes, he spends plenty of time indulging in flutter tonguing. Mind you, if his intention was to make his horns virtually unrecognizable to the ear, he certainly has succeeded, and your guess is as good as mine where he uses soprano sax and, maybe, bass clarinet. Demierre's frequent fisticuffs also tend to drown out what his partner is doing, and this reviewer wonders if they are even listening to each other, or simply going through their motions on parallel tracks. But to their credit, they have kept the proceedings to a manageable time span, as there are eight tracks in the two to five and a half minute range that all clock in under the 37-minute mark.
Lee Konitz once opined that playing free music was lots of fun, but he wasn't so sure if it was as fun to listen to. Ditto for this writer. (As a side note, the rather wordy titles of the pieces were taken from a book by David Antin entitled Never New What Time it Was. Also on the subject of books, the album title refers to a very rare and old one of priceless value.)
Comments and Feedback: