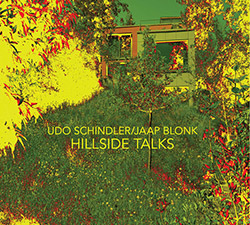 Recorded live at Munich's Salon für Klang + Kunst, at concerts on June 1st and 11th 2018, Hillside Talks features German-born Udo Schindler on reeds and brass, with the Dutch voice and computer performer Jaap Blonk. Given their past recordings with others and the compatibility of their styles, it seems remarkable that these two had never before been recorded together. The album's ten tracks, with a total running time just short of fifty-five minutes, are credited jointly to Schindler and Blonk, suggesting they are improvised, a suggestion backed up by the content of the tracks themselves.
The opening track, "Proposal Accepted", begins promisingly with a series of extended swooping notes from Schindler on trumpet, but scarcely fourteen seconds have elapsed before Blonk makes his entrance with a mixture of singing, recitation and vocal sounds which runs parallel to the trumpet, managing to complement it without obviously deferring to it in any way. As an opening, it sets the scene for what is to follow; by and large, the two are both performing throughout, overlapping, responding to and sometimes even imitating something the other has played.
It is not uncommon for listeners hearing free vocal improv for the first time to respond by laughing; this reaction can be nervous embarrassment or fear of the unknown, but it can also be a natural uninhibited reaction to vocals which contains amusing content such as vocal sound effects, animal noises, loony tunes voices, jibber jabber, pompous overblown speech, cod opera, yodelling and suchlike; even seasoned improv fans often listen to vocalists such as Blonk, Phil Minton, Ute Wasserman and Jean-Michel Van Schouwburg with a broad grin on their faces. An instrumentalist in a duo with such vocalists could all too easily fall into the role of straight-man, Abbott to their Costello, Martin to their Lewis...
To his credit, Schindler avoids that trap here. Credited with playing "reeds and brass", he deploys a variety of both, combined with a range of extended breath and embouchure techniques which give him a palette of sounds as broad as those at Blonk's disposal; this means that in response to Blonk he never sounds at a loss for what to play, does not resort to clichés or stock phrases. The end result is an adventurous, fluent exchange between the two; dominated by neither, it allows each of them to fully demonstrate what they do best. As free improvisation, without any obvious signs of prior preparation or no-go areas, Hillside Talks makes fascinating listening and sheds light on the possibilities of the genre.
Comments and Feedback: