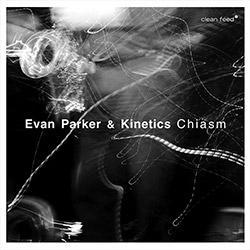 Despite being well into his seventies, saxophonist Evan Parker shows no sign of winding down or resting on his laurels. In recent years he has continued to release recordings at a prodigious rate, averaging over six albums a year. Not only have these releases included such long-established ensembles as the Schlippenbach Trio and Parker's own trio, but he also continues to record in the company of musicians and ensembles with whom he has never played before. Chiasm is the latest example of this spirit of discovery and adventure, featuring Parker on tenor sax in the company of the Danish piano trio Kinetics, comprising pianist Jacob Anderskov, bassist Adam Pultz Melbe and drummer Anders Vestergaard, all three being vastly experienced improvisers and decades younger than Parker.
Of the album's four tracks, recorded in 2018, two were studio-recorded in Copenhagen on February 23rd while the others are live recordings from two days later at The Vortex in London, a venue at which Parker feels at home, having unfailingly performed there monthly for many years. The album opens and closes with live tracks, with the studio recordings sandwiched in between, the four tracks together running for just over thirty-eight minutes. On the opener, "London Part I", at eighteen-and-a-quarter-minutes the album's longest, the four players already sound as if they know each other's playing inside-out. Over the years, Parker has repeatedly demonstrated his chameleon-like qualities, being able to change between contexts — as diverse, say, as the Sturm und Drang of a duo with Paul Dunmall and the quietude of Trance Map — and to adapt his playing appropriately, while always being recognisably himself. And so it proves here, the saxophonist sounding completely at home with the trio and a natural part of the quartet rather than a visitor.
Just as impressive is "Copenhagen I", presumably the first piece the four played together; after two seconds of the saxophone it is instantly identifiable as Parker, but he does not hog the limelight, instead ensuring that the trio members get a chance to shine while he takes a back seat. Listening to Parker with Kinetics, it is immediately clear why he will continue to find new contexts in which to play; his saxophone playing is steeped in the history of the instrument and the music dating back decades, yet it is not frozen in time but totally compatible with music being produced today. Consequently, Parker will never be short of younger players keen to play with him, for musical not historical reasons.
Comments and Feedback: