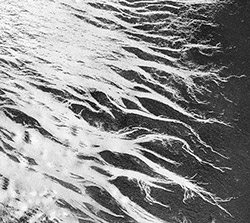 At first listen, Uprooted sounds like a soundscape. And, indeed, Dutch composer and musician Michel Banabila's electronics and samples evoke the sonic topography of nondescript, churning environs. The sounds evoke rolling hills and valleys, gusts of wind, craggy footpaths and mountains, glittery starscapes, and clanging industrial wreckage. An incessant pulse — sometimes a clear electronic palpitation, other times an iterant throb of brief melodies — ritualistically drives the music onwards.
Uprooted, however, is more than a soundscape. Parts of it sound ancient, even timeless. Other elements, however, sound modern as they reflect the multidimensional depth and spaciousness of modern music. Banabila does not sculpt these five tracks alone, but invites a collection of strings, reeds, and additional electronics to flesh out the contours and contrasts of this musical excursion not just through a sound-world, but also through a mélange of contemporary styles. Influences range from the brooding spaciousness and palpitating loops of the New York School to the post-industrial atmospherics of Utech Records to contemporary sampling and sound collage techniques. Each track is constructed of snipped, sampled, and layered chamber improvisations rather than extended studio performances of pre-written pieces. The composition, in other words, lies in the actual construction of the album, rather than in sheet music or even simultaneous collective improvisation.
In one sense, the varied musical influences are the roots from which the music on Uprooted springs. "Uprooted," however, has another meaning related to the disruption and redeployment of the orchestral tradition. "What if," Marc Weidenbaum asks in his liner notes, "'orchestral' were uprooted? What if 'orchestral' referred to what we heard, not how it was recorded? What if 'orchestral' welcomed electronic instruments not just into the pit, but into the compositional process?" What if, moreover, the orchestra allowed those instruments and methods too modern to fit into such early modern categories to deepen that pit and pull that cybernetic revolution that has transformed our life-worlds into the realm of classical chamber music? Banabila and the musicians on this album are not alone in pursuing this task of modernizing the very concept of the orchestra and blurring the already questionable boundaries between old and new musical vernaculars. They do, however, chart their own path, a path which retains classical structures and motifs while integrating the electronics and the dynamics of contemporary practice almost seamlessly. This is not a chamber ensemble featuring Michel Banabila. This is not abstract electronic music produced with strings. Rather, this is a balanced syncretism of musical strategies and forms that becomes more rewarding and provocative with each listen.
Comments and Feedback: