Last year, after the 19th annual Festival International de Musicque Actuelle de Victoriaville, I asked festival organizer Michel Levasseur if he had big plans for Victo's 20th birthday. His response was, quite simply, that it was just another year and that he didn't see any reason why it should be a bigger deal than any other year.
Still, there were signs all over the small town (with a population of about 40,000, 7,000 tickets sold over the course of the five-day festival represent a noticeable swell on the streets every Victoria Day weekend) celebrating the anniversary, and a downtown bank gave away pieces of a birthday cake inscribed to FIMAV. Mentions of the anniversary from the stage, however, were rare. And while there were big sets from big names with long histories at the fest, other performances almost seemed to reinforce the idea that anniversaries are no big deal. Along with the stars and the oddities, a current of small sounds, well amplified, ran through the five-day festival.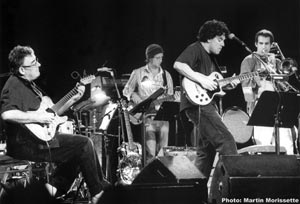 Fred Frith, Maxime Lepage, René Lussier, Tom Walsh

Rene Lussier and Fred Frith performed at the first festival in 1983, and a duo set was the first release on Victo records, so it was fitting enough that the Quebecois guitarist opened the first night of the fest with Frith in his band. The nonet played deeply deconstructed folk songs from Lussier's record Tombola Rasa, with melodies sometimes only vaguely recognizable. Some pieces were played by smaller groupings of the ensemble, but when the full group played they toyed with familiar melodies and themes that would dissolve and break apart frustratingly fast, phrases filtering, sweltering, smelting, flowing, growing but never quite gelling. It wasn't until the third song, with Lussier singing, that that Franco-Dixie-St. Germaine sources became apparent (at least to a listener visiting from the States).

Excellent support was provided especially by violinist Liette Remon and clarinetist Lori Freedman, but the nine people onstage were an orchestra (as well as a big band and a hootenanny), with all the diversity and arrangement that befits an orchestra. Euro jazz, mountain music, hula, funk and, of course, the inexplicable, the actuelle and French lyrics were incorporated, reminding visitors from the south that North American music comes from all over North America.

Fred Frith returned three nights later with Montreal's Nouvel Ensemble Moderne to present three composed works (including Traffic Continues released in 2000 by Winter & Winter) intertwined into a long suite over 75 minutes.

While the pieces were a little too similar to combine into a dynamic suite, the performance was enhanced by sonically theatrical staging. Musicians rose from their seats and moved to the side of the stage, playing and speaking without microphones (as with almost all of the sets at Victo, the performers were otherwise well miked and the sound was exemplary), dropping wooden blocks on the stage floor and creating an acoustic sound field within the piano syncopation and complex, linear, nonrepeating oboe and flute lines emanating from the p.a. Frith took over the conducting from ensemble leader Lorraine Vaillancourt for brief interludes of real-time arrangements before slinking back to the side of the stage to punctuate with his prepared guitar. It was an interesting, romantic, static, intelligent and lucid suite. The pieces no doubt stand better distinct, but what should be expected from an inventive mind other than inventive ways to present its work?

The Victo festival also has a long relationship with the Montreal label Ambiences Magnetiques, which was represented in several of the concerts, including a duet by Jean Derome and Joane Hétu, the husband/wife team that co-founded and run the label.

Intimacy is a word that gets thrown around a lot in discussions of music: intimate clubs, intimate atmospheres, intimate concerts, intimate albums. But the intimacy of family, of a gracious couple entertaining guests, brings an altogether different nuance to the claim. Derome and Hétu are perfect hosts, jointly relating stories, complimenting without interrupting each other. They surely must be the sort of couple that defers conversational points to each other, depending on who "tells it better."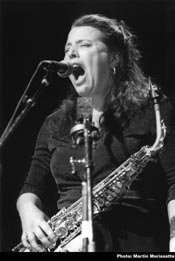 Joane Hétu

Hétu on alto and vocals, Derome on alto, flute, bass flute and an array of sound-making devices, both singing and vocalizing, their songs (sung in French) were miniature portraits of domesticity and getting along, imparting a feeling of cooking dinner while the news plays in the next room. Intimate enough as to simply breathe into the microphone and through the saxophone. And jazz being the macho business that it is, you have to appreciate a guy who'll go onstage and play patty-cake with his wife.

Mike Patton has more recently become a regular on the Victo program, but nevertheless pulled together a program of note. His Fantomas, playing in tandem with The Melvins as the Fantomas Melvins Big Band, had only done one previous concert before they closed the last night of the fest. They began as a double trio with two singers, two bassists and two drummers in perfect sync. Two rock bands demanding sacrifice in unision, like Black Sabbath looking in a mirror. From there they broke into bpm noise and huge thrash metal. It was the festival's closing party and it's money shot, and they rocked freakin' suitably. Flipping between anthemic speed grinds and tense, sparse, hilarious segues, the assault came to an end with all six bashing on cymbals for more than a short time. Learned listeners run the risk of overlooking them because they might not be good, or at least not especially innovative, and indeed Mike Patton has become very adept at doing other people's ideas well. But what matters about rock bands has never been if they're good. What matters about rock bands is if they rock.

Another blockbuster set was a double trio fronted by Peter Brötzmann and Evan Parker. They opened with an all-out twin tenor Coltrane attack. The two saxophones began a simple unison theme and took only moments to turn that into sheer energy. They truly were a double trio: Brötzmann, drummer Hamid Drake and bassist William Parker leaving the stage early on to give Evan Parker, Alexander von Schlippenbach and Paul Lytton the spotlight, then Parker and von Schlippenbach setting down a series of short statements, separated by brief pauses while Lytton lightly rolled across cymbals and snare.

The sextet moved beyond its double-trio structure and into a rotating ensemble. Different passages in the unbreaking piece included quintets with each of the horns stepping out, a remarkable trio with von Schlippenbach's piano and the two drummers and a bass/drum duo by Parker and Drake. The sextet ended, dissolving until a few lone notes hung in the air. An unnecessary but welcome encore brought them back to the stage, and back to the Trane. In a festival revolving so much around the new and unusual, it was great to hear free jazz this good.

Perhaps the most excitement was generated by two sets from John Zorn, and indeed it was odd coming from New York to hear over 1,000 people screaming for one of his game pieces. Zorn presented a big, fat, long Cobra, thickly coiled and taking its own sweet time to strike. And with Mr. Zorn approaching the dawn of his sixth decade, it was a more generous Cobra as well, with the leader at the prompter's pulpit offering players the opportunity to lead the piece, a move known as 'guerilla tactics' that once had to be claimed, not merely accepted, by participants. (Alternately, Zorn ended some moves early, seeming to break with game piece tradition in order to ensure a stronger musical result.)

Cobra is the most played of Zorn's game pieces, a set of rules that impose structure on improvisation and allow players to direct the performance even as they're playing. At its core, it's about using personality clashes and sympathies to create an environment automatically tailored for any set of musicians. This meeting, however, didn't explore individual or cultural divides. Zorn used the structure as a compositional tool more than he allowed players to contend against each other to build something not entirely controllable. Cobras of late have become more musical and less contentious anyway. This one was immense, monolithic and satisfying, thanks primarily to Diane Labrosse's fierce, grinding noise and guest Makagami Koichi's leaps and screams.

Electric Masada have been woodshedding a more orchestrated, fast-cut version of the latest take on the Masada songbook, but unfortunately the group was in jam band mode for their set. An unusually powerful, syncopated, melodic and structured set was presented by some other visiting New Yorkers, however. Mephista were more dynamic than ever, visually cuing each other and even referring to scores, a direction which, according to laptop percussionist Ikue Mori, the group has developed with recent heavy touring.

MINIATURES

Sparse electronic music can have a microscopic effect, like listening to photosynthesis or cells dividing. When it's done well, it can carry the feeling of the lives we live zoomed in to an unrecognizable degree. Laura Kavanaugh and Ian Birse, both Canadian, worked that angle well, pairing soft crackles and reverberating whirs with slow black-and-white videos of pedestrians shot from overhead. The walkers got nowhere, the documentation of their simple tasks slowed, reversed and repeated, displayed on four monitors surrounding the audience. It was life slowed to a crawl, mental activity not mattering, biological functions continuing.

The miniature music was amplified to epic proportions with a quintet comprised of Quebecers Diane Labrosse and Martin Tetreault and French improvisers Xavier Charles and the duo Kristoff K. Roll. The electronics-and-small-objects ensemble invited observers into the physical space, setting up in a circle in the middle of the room and asking the audience to promenade around them, revealing their many sound sources to full view. The quintet included Labrosse's laptop and Tetreault's turntable, but otherwise relied on cups of lentils, kitchen utensils, rubber bands, aluminum foil, plastic toys, cds dropped onto a zither being moved arross a tabletop scattered with rice. Charles' clarinet provided the only strictly musical sounds; his short squeaks and breathy tones would push the edges in a jazz context, but against the rattle of this giant junk drawer it sounded deceptively melodious. The rest was amplified more than it was altered, coming off deceptively like electronically generated music when it was really the sounds of inanimate life, with the volume up.

Another quintet seemed to embody not the sound but the actual movement of thousands of small objects. In an excellent set by Kazue Sawai, Michel Doneda, Kazuo Imai, Le Quan Ninh and Tetsu Saitoh, the players were in constant movement, flying under the radar of chaos. Guitar, bass and koto strings were rubbed and rubbed hard while Le Quan worked metal edges against his table-mounted bass drum. Doneda darted above and circled below with his soprano. They were frenetic, energetic, quietly fast and fantastic.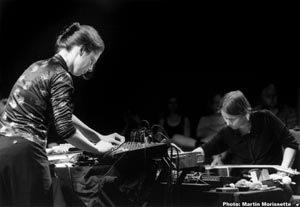 Annette Krebs & Andrea Neumann

The microsonic plane was further explored by two essentially acoustic players, Annette Krebs on guitar and Andrea Neumann playing the strings and metal frame of a piano stripped of keys, pedals and wooden casing. With contact mikes placed on the guitar laid across her lap, Krebs applied steel wool, brushes and bows to her hypersensitive strings. Likewise, Neumann's playing had less to do with the vibration of strings than what can be made to happen upon them. The sounds themselves weren't of particular note. Instead, their aesthetic is about a shared penchant for placing the sounds, and they work quiet beautifully together.

Joelle Leandre also played with the variety of sounds her instrument can make, abetted by electronicist Joel Ryan. With Ryan's processing, Leandre's every movement was exaggerated. He processed the sounds (with little manipulation) coming from her bass, pushing the volume, adding bits of reverb and delay and creating small loops from the sounds of fingers pushing and bows brushing strings. It was the sound of the artist herself amplified, like being inside her bass, the sounds of physical contact with the instrument exaggerated, the music itself filtered and muted.

The trio of Jacques Demierre, Barre Phillips and Urs Leimgruber also worked within a magnified world of acoustic sounds. They played with a quiet power, nearly whispering their way through the set, instruments seeming barely to be played. Piano strings were stroked, bows bounced across bass strings. Leimgruber blew through and fingered his saxophone, but rarely coordinated the actions in a way to sound a note. Theywhispered, then screamed, Demierre working the keyboard elbow to fist, Leimgruber blowing hard, low rolls on his tenor, the great Phillips sadly lost in the mix.

FOUR OR FIVE OF A KIND

The festival also presented several groupings of like instruments, with a vocal quintet, a bass quartet and the ROVA saxophone quartet.

The vocal ensemble opened with a low rumble, slowly building from a meditative chant to an out-and-out scream, then resolving in a single-note song. Anyone familiar with even some of th?e members of this avant a capella group (comprised of Jaap Blonk, Paul Dutton, Makagami Koichi, Phil Mintonand David Moss) was prepared for oddity and hilarity. The group was slow to live up to such expectations (why should they, after all?). Moss broke first with his conversational syllabrications, then Minton quickly plunged in with contemplative mumblings and Dutton with his anguished songs. Then explosion, release, relief and Koichi's cartooning began. Soon everyone was talking at once, or doing something very near talking. Blonk and Koichi went professorial, Minton did some bear-trap scat before a momentary return to mayhem. The group held the room like Alice Cooper circa 1972: all eyes focused on the singers, and the increasing outbursts of laughter only added to the performance. If the Labrosse/Tetrault quintet invited observers into the physical space, the vocal quartet allowed the audience into the sonic space. With no musical instruments, the vocal quintet grew to include its audience as members.

Groupings of like instruments can often be more limiting than the musicians involved deserve. But when a group of performers is strong enough to overcome the narrow structure of having only similar voices to work with, the group can rise above what might otherwise prove to be plain. The vocal quintet was a case in point, as was a strong, angular set by the ROVA saxophone quartet, and a great set by a string bassquartet made up of Joelle Leandre, William Parker, Barre Phillips and Tetsu Saitoh.

Victo2003 Schedule

Thursday, May 15
Rene Lussier et Son Orchestre
Mephista
Bassa Fedeltŕ

Friday, May 16
Laura Kavanaugh/Ian Birse
Oren Ambarchi/Tim Hecker
Jaap Blonk/Paul Dutton/Koichi Makigami/Phil Minton/David Moss
John Zorn's Cobra
Sue Garner

Saturday, May 17
Joane Hétu/Jean Derome
Xavier Charles/Diane Labrosse/Kristoff K. Roll/Martin Tetreault
The Remote Viewers
Kazue Sawai/Michel Doneda/Kazuo Imai/Le Quan Ninh/Tetsu Saitoh
Electric Masada
Kid 606

Sunday, May 18
Annette Krebs/Andrea Neumann
ROVA Saxophone Quartet
Ron Anderson/Olivier Paquotte/Camel Zerki
Joelle Leandre/Barry Guy/William Parker/Barre Phillips
Fred Frith & Nouvel Ensemble Moderne
Peaches/Pan Sonic

Monday, May 19
Urs Leimbruber/Jacques Demierre/Barre Phillips
Peter Brotzmann/Evan Parker Double Trio
Joelle Leandre/Joel Ryan
Fantomas/Melvins Big Band


Saitoh replaced Barry Guy, who'd been slated for the project but canceled North American dates due to a family illness. Saitoh is a fast and inventive player. He didn't deal in preparations of his instrument, as he had during the set with Doneda, but he did use the whole of the bass, drumming the sides, bowing below the bridge, creating a quick activity the others often played against, with Phillips' assured understatements, Leandre's lyric cries, Parker's solid framing of the set. The bassists opened with an extended, high-pitched invocation. Over about 10 minutes, the individual sensibilities slowly emerged, before returning to a second, mid-register drone, andclosed. It made a brief and beautiful tribute to bassist Peter Kowald, who died last year and to whom the set was dedicated. But it was as much a tribute to tone, the intensity of four fiery players approaching their subject without a clash in the way, without an ego in front of the pack.

Unlike the penetrating voice of the saxophones, the basses in unison can blend into each other, becoming a single animal. (During a press conference with the bassists, Parker said as much, explaining that "Basses are like trees, if you had an oak tree, a maple tree, a spruce tree, they could all live together because they're trees," he said. "It's really like a family. Saxophones are noisy. You can't plant a saxophone in the ground. You plant a bass in the ground and come back in six months and it will grow.")

As a single and egoless animal, however, the quartet basically went about its business, prowling through the dusk without realizing it was being watched and not prone to surprises. In the end, the animal slowed to a growl, its four heads coughing, and died in peace. Might that animal have been Kowald? An avid smoker, a peaceful spirit, tireless and brimming with ideas. It would be a lot to suppose, but a memorial is meant, quite simply, to bring the departed to mind, and without so much as a word from the ensemble, Peter Kowald was remembered.

Cakes in banks and signs on lampposts aside, the 20th Festival International de Musique Actuelle de Victoriaville stood out only in that it was another strong year (perhaps more of an even keel, missing the peaks and valleys of the last couple years), with little fanfare for the anniversary, save a solitary white balloon that had lost a little helium and hovered around the stage on the final day.