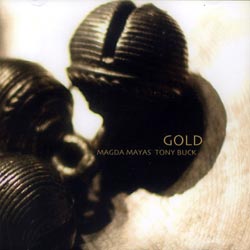 There are at least five distinct points along the spectrum of sound created by Magda Mayas and Tony Buck. At either extreme are the "natural" sounds of piano and drums. Moving toward center, we hear the strummed and muted strings and the bowed cymbals familiar within the language of extended playing techniques. And hovering in the middle is the territory the duo marks as its own, an area where they overlap and the origins of sounds become not just uncertain but irrelevant.
The spectrum of Gold doesn't lie in progression. Mayas and Buck move freely along the line, generally occupying several points at a time. Buck may be best known as the drummer for the excellent Australian trio The Necks, but here he is considerable more restless, continually reshaping the proceedings. Mayas is one of the more fascinating of the new realm of piano preparers, and takes the instrument's inclusion in the percussion family quite literally, while seeming to consider it a fractured harp or an overgrown slide guitar on occasion as well.
These varying factors fell together quite beautifully at Amsterdam's Bimhuis in December of 2007, when this succinct (37 minute) duet was recorded. The pair finds a remarkable way of being both quick and gentle, making for a pleasantly rewarding recording.
Comments and Feedback: