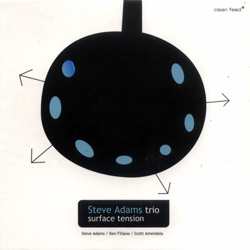 A possible result — danger, some might say — of working as a multi-instrumentalist in creative music is being less recognizable as a player. There are exceptions, of course, like Ornette Coleman in his alto/trumpet/violin days, and Anthony Braxton especially stands out. But listeners are likely to come away from "Surface Tension" not being quite sure what Steve Adams sounds like. On this disk he divides his time among sopranino, alto and baritone saxophones, and also plays bass flute. But on these various instruments his playing largely seems to lack the ready recognizability of multi-instrumentalists.

This may not matter. This album seems to be about playing that is more geared toward inventive compositions and arrangements than creating backdrops for blowing.
Steve Adams is a member of the Rova Saxophone Quartet, a group known for dedication to the pieces instead of showy collective riffing. Indeed, there is much variety in the compositions here, and in the way the instruments are combined. When the fifth track "Squeamish," kicks in with its punchy alto figure as head, it suddenly becomes apparent how much the album so far has defied expectations about what a sax/bass/drums trio sounds like. But even this track moves into unanticipated territory with its early solo drum break and later sax/drum duet.

"Equilibria" exemplifies this trio's focus on interaction and careful listening. The piece is not based on a set rhythmic pulse, apart from the head, but it nevertheless maintains a sense of momentum and flow. The center section is truly a collective solo featuring edge of your seat twists and turns. 


Not all of the tunes on the CD feature unusual structures, though. "Squelch," for example, is clearly influenced by Steve Lacy. Although Adams plays it on alto, both its jaunty melody and Adams' phrasing on his solo are unmistakably Lacy-esque. "Cacophony (for Vinnie Golia)" is the most aggressive track on the album. It combines the angular compositional lines and raucous soloing of players like Cecil Taylor, Joe Morris and Rob Brown. Adams' sopranino playing on the track is superb, by the way, suggesting that an entire album from him centered on this instrument could be a welcome future project.
Comments and Feedback: