September 27, 2022:

As quiet as it's been on this blog, it's been anything but quiet here at Squidco Headquarters! It started with our Memorial Day sale, that kept us running filling orders and conversing with many of our customers, fellow music enthusiasts and sonic explorers. That followed with a deluge of excellent new albums, as the summer doldrums expanded into an early fall set of releases from some of our favorite labels, including multiple albums from 577 Records, Aerophonic, Another Timbre, Astral Spirits, ChapChap Records, Corbett vs. Dempsey, ezz-thetics by Hat Hut Ltd, Listen! Foundation (Fundacja Sluchaj!), Nakatani-Kobo, RogueArt, Soul City Sounds, thanatosis produktion, Umlaut, a number of single releases on labels including ANTS, KARLRECORDS, Torn Light, Ultragash and Unbroken Sounds.

Though there hasn't been much written here over the last 3 weeks, I've been taking notes for this current entry. Below you will find an overview of Relative Pitch's excellent series of solo releases, presenting unique approaches to solo improvisation from a fine set of musicians. Following, the recent ezz-thetics by Hat Hut, Ltd. dig deeper into more traditional jazz forms, with a list of the new albums and other lyrical albums from the label. Last is a list of experimental clarinet & reed influenced albums, inspired by the addition of new Great Waitress and John McCowen albums to our catalog.

Since it's been three weeks I'll end with a short update on the Squidco website changes you might have noticed, and end with a list of upcoming titles from our recent purchases and acquisitions.




---
Relative Pitch's Solo Series
I count 31 solo albums on the New York-based Relative Pitch label, from 28 different improvisers and explorers. Just for fun I generated the list of soloists and their instruments, demonstrating the diversity of musicians, instrumentation and approach:
Michel Doneda (soprano saxophone); Susan Alcorn (pedel steel guitar); Matana Roberts (alto saxophone); Joe Morris (guitar); Catherine Sikora (tenor saxophone); Jessica Pavone (viola; effects); Jessica Pavone (viola; effects); Paul Flaherty (tenor saxophone; alto saxophone); Erin Rogers (tenor saxophone; soprano saxophone; cymbal); Masayoshi Urabe (alto saxophone; harmonica); Chris Pitsiokos (alto saxophone); Alex Ward (electric guitar); Joanna Mattrey (viola; Stroh violin); Tamio Shiraishi (alto saxophone); Hermione Johnson (prepared piano); Samara Lubelski (violin); Gabby Fluke-Mogul (violin); Signe Emmeluth (saxophone); Gregg Belisle-Chi (acoustic guitar); Hermione Johnson (prepared piano); Samara Lubelski (violin); Gabby Fluke-Mogul (violin); Erin Rogers (saxophone); Liz Allbee (electronics; trumpet; quadraphonic trumpet; voice; field recording; acoustic homemade instruments); Robbie Lee (sopranino saxophone; tuning forks; live electronics); Ava Mendoza (electric guitar); Aaron Burnett (saxophone); Jessica Pavone (viola; voice; effects); Masayo Koketsu (alto saxophone); Gabby Fluke-Mogul (violin); Marta Warelis (piano); Alexandra Grimal (soprano saxophone); Amidea Clotet (electric guitar; objects); Michael Foster (tenor saxophone; soprano saxophone; samples; oscillators); Aaron Burnett (saxophone).
The most significant of the label's solo series are listed with the catalog code "RPR SS", and this year has seen six new releases on that series, with four more (Violeta Garcia, Chris Pitsiokis, Tamio Shiraishi, Jon Lipscomb) on the cusp of being added to our catalog. The musicians on this recent set come from NY, Tokyo, Amsterdam, France and Barcelona, with instrumental work on saxophone, electric guitar and prepared piano. Each brings specific talents and unique approaches to their instruments, and to their concept of music and solo performance. Aside from the long tradition of solo piano recordings, solo improvisation performance on other instruments has taken on great significance over the last decades, arguably fueled by Anthony Braxton's 1968 album For Alto. Relative Pitch's series has been heavy on saxophone albums, but also presenting violin, guitar and their own piano albums. Each embraces a the unique methodology and technique that each performer brings. Through a spectrum of approaches we see the vast breadth of modern improvisation and its singular definition to each improviser.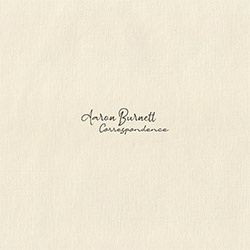 Aaron Burnett: Correspondence (Relative Pitch)
Known for his ensemble The Big Machine with Peter Evans, Carlos Homs, &c., NYC saxophonist Aaron Burnett steps out for a solo album of intense improvisatory exploration, demonstrating his background in classical saxophone studies that fuels an ardent intensity in personal expression, a tremendous balance between technique and passion.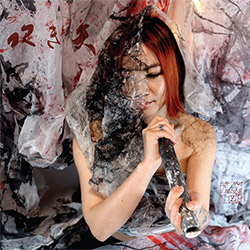 Koketsu, Masayo: Fukiya (Relative Pitch)
An extended monologue on the alto saxophone from Tokyo-based Masayo Koketsu (Carrier/Koketsu/Fuwa/Itani), driven by an innate sense of timing to introduce assertive utterances, growls, throttling and intense interaction offset with long pauses, digressive asides and reflective moments, a remarkable album of modern free jazz in the Japanese tradition.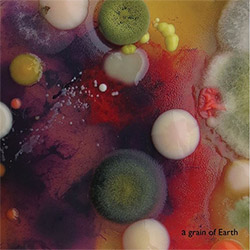 Marta Warelis: A Grain of Earth (Relative Pitch)
Working inside and out of the piano and sometime evoking wild sounds that seem to have no relationship to the instrument, Polish-born and Amsterdam-based pianist Marta Warelis explores the concepts of realities beyond our perception, and a thought that we are a part of a big organism where everything goes endlessly bigger and smaller in scale of size, time and speed.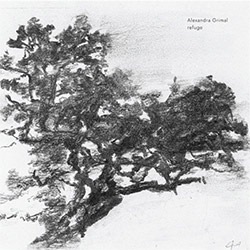 Alexandra Grimal: Refuge (Relative Pitch)
Recorded using the natural resonance from the base of a stone double spiral staircase in the Castle of Chambord, France, improvising soprano saxophonist Alexandra Grimal explores her own personal language and the affect the ambience brings to her adept playing, through beautifully melodic lines, long arpeggiations, or short bursts of penetrating utterance.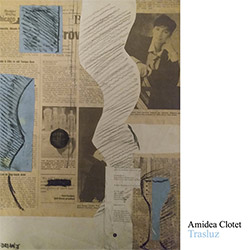 Amidea Clotet: Trasluz (Relative Pitch)
Sorollets i catxarros—noises and rattles—from Barcelona electric guitarist and free improviser Amidea Clotet, who explores unusual possibilites from the instrument through textural approaches and amplification, evoking unusual soundscapes of inexplicable sound from the body, hardware and strings of the guitar, in seven unusual and fascinating expositions.
Michael Foster: The Industrious Tongue (Relative Pitch)
It's not just the tongue that drives these compellingly irascible and unexpected sounds from the saxophone, augmented at times by samples and oscillators, as NY saxophonist Michael Foster applies technique beyond extended to a tenor and soprano saxophone, in two multi-part works of solo utterance: "Libidinal Fragments" in seven parts, and "Celluloid Nightmares" in two.
---
Unexpected ezz-thetics (by Hat Hut, Ltd.)
Since being revived in 2019 by the original founder of Hat Hut Records, Werner X. Uehlinger, ezz-thetics by Hat Hut, Ltd has resumed releasing both excellent new forms of improvisation and modern compositional music, but also has focused on a set of reissued and "Revisited" albums from jazz greats. Many of the "revisited" albums have concentrated on free jazz legends like Albert Ayler, Jimmy Giuffre, Marion Brown, Archie Shepp, New York Contemporary Five, Don Cherry, &c. Another side to the label has also emerged, focused on earlier bop and hard bop forms, with reissues of selections from Charlie Parker's Dial & Savoy releases; John Coltrane concerts from his period transitioning into freer forms; and Miles Davis' European tour with an evolving band from his 50's work.
This month the label has released two lyrical jazz albums, one from the swing big band era — the Lionel Hampton Orchestra 1958 — and one from the Blue Note era of hard bop — the Horace Silver Quintet.
I personally found the Lionel Hampton Orchestra album most surprising, having always been impressed with Hampton's playing in smaller groupings, but not associating him with the kinds of music Hat Hut has traditionally released. Reading the liner notes and listening to both this album and other earlier examples of his playing was very informative to me, as I'd not considered the influence he had on future bop and small group players. Looking through Hampton's extensive discography over the decades, one finds albums closer to my typical traditional jazz aesthetic, including albums with Dexter Gordon, Chick Corea, Clark Terry, Hank Jones, Gerry Mulligan, &c. For this big band album, a listener like myself found the focal point in a beautiful rendering of "Round About Midnight", though overall I find the entire set upbeat and engaging. The remastering of these studio recordings from Stuttgart is warm and clear, bringing to life Hampton's music from 60 years prior. Hampton's playing is exceptional, as are the solos and group interplay from the cream-of-the-crop sidemen that he employed, and the arrangements are impeccable.
The other release from ezz-thetics, Horace Silver's Live New York, Revisited is closer in character to the other aforementioned "Revisited" releases. A great hard bop player and composer, Horace Silver's bands and other groups that he played in present a who's who of the Blue Note era, and the two groupings heard on these two live albums include tenor saxophonist Joe Henderson and two trumpet greats, Carmell Jones and Woody Shaw. For me personally the recordings with Shaw are the closest to my heart, as I was drawn to Shaw's work from his initial work as an Art Blakey sideman through his excellent Columbia albums; his tragic and premature death hit hard for me, and it's wonderful to hear two of his lovely solos on "African Queen". Which is to say nothing of the work of every player in Silver's groupings, and the version of "Song For My Father" reminds why the pianist was a mainstay for the period.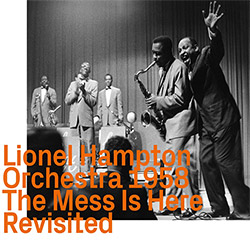 Hampton, Lionel Orchestra 1958: The Mess Is Here, Revisited (ezz-thetics by Hat Hut Records Ltd)
An influence on the next generation of small band and bop players, vibraphonist and Band Leader Lionel Hampton's programs included both crowd-pleasers and sophisticatedly complex sections, heard here in this 1958 studio recording from Stuttgart, Germany while touring Europe, Ghana and Israel with his exceptional band expanded by three German jazz musicians.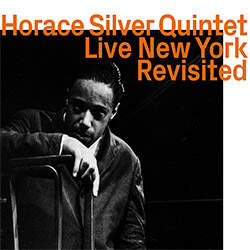 Silver, Horace Quintet: Live New York, Revisited (ezz-thetics by Hat Hut Records Ltd)
Recorded around the time of his most famous records, Song For My Father and The Cape Verdean Blues, lyrical hard bop/Blue Note pianist and composer Horace Silver's band is heard live at The Half Note in NYC and at "The Cork & Bib" on Long Island with his spectacular band including trumpeters Carmell Jones & Woody Shaw and saxophonist Joe Henderson.
---
Reeds, Multiphonics and Extreme Techniques:
I am drawn to the clarinet because of my late father, Gerald Zampino, who was a classical symphonic clarinetist and soloist. That also makes me acutely critical of tone and technique on the instrument, so I'm impressed when I hear great modern improvisers or experimenters on this very challenging reed instrument. The last couple of decades have heard some exceptional players on the b-flat and bass clarinets, some personal favorites including Lori Freedman, Oscar Noriega, Jean Derome, Peter Brotzmann (on the tarogato, an earlier form of the instrument), Ned Rothenberg, and Roscoe Mitchell, to name a very few.
Not quite improvisation, I've also been deeply drawn to the work of two clarinetists, together or apart, that make up the International Nothing duo: Kai Fagaschinski & Michael Thieke. Their playing brings the clarinet into new territory, focusing on multiphonics and harmonic interactions through the clarinet. Similarly clarinet explorer Sergio Merce generates profound microtonal and multiphonic tones on his reeds, sometimes merged with electronics or EWI wind synth. Clarinetist John McCowen takes the contrabass clarinet and b-flat clarinets into uncharted acoustic territory, using circular breathing and multiphonics to generate intense drones and unexpected utterances. While not strictly a clarinet album, the playing of clarinetist Laura Altman in the Australian deep listening improv band Great Waitress is a great example of extended reed techniques in a group setting.
Here are a few commendable albums illustrating the unique place the clarinet has brought to modern improvisation and experimental music.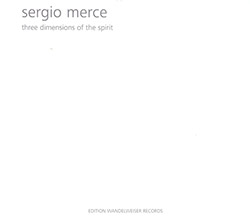 Merce, Sergio: Three Dimensions Of The Spirit (Edition Wandelweiser Records)
Conservatory trained Argentinian saxophonist Sergio Merce uses a prepared tenor sax and a microtonal sax to create rich harmonics and slowly moving tonal works, layering aberrant and alluring tones in restrained configurations that allow each stratum of sound to be distinguished and appreciated, creating mesmerizing compositions of elusive and illusionistic sound.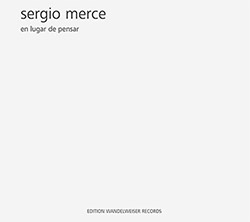 Merce, Sergio: En Lugar De Pensar (Edition Wandelweiser Records)
One circular and one continuous composition from Argentinian composer Sergio Merce, using rich tones like clouds of sound generated by a microtonal saxophone, synthesizer and wind synth, the title referring to his sense of music a channel to see, to reveal, a channel that opens through intuition, observation and attention but not through thinking; beautiful.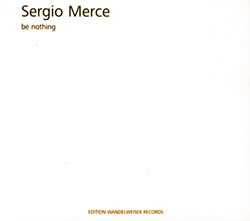 Merce, Sergio: Be Nothing (Edition Wandelweiser Records)
A beautifully ambient album of analogue synthesiser, microtonal saxophone and electronics by Argentinian saxophonist Sergio Merce, a single long track that pauses and resumes its rich tones and harmonies at a deliberate and measured pace, allowing each environment to ring.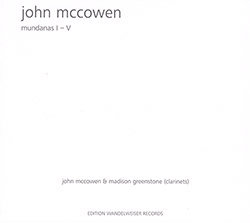 McCowen, John: Mundanas I - V (Edition Wandelweiser Records)
Two clarinetists--John McCowen, also the composer, and Madison Greenstone, both on clarinet & bass clarinet--taking the title from Boethius' (427-524 AD) printed work on ancient Greek music: "De institutione musica", as they generate long-form drones using the harmonic interactions and interference patterns of similar tones, overtones, and difference tones; impressively intense.
McCowen, John: Models of Duration [VINYL] (Astral Spirits)
A co-release with Dinzu Artefacts, clarinetist John McCowen continues his investigation into the physical possibilites of the clarinet family, here on contrabass clarinet for four fully acoustic recordings of continuous tones and unexpected aural phenomena through circular breathing while generating intense harmonics and multiphonics of earth-shaking ferocity.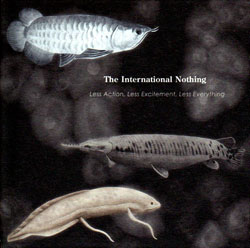 International Nothing, The (Fagaschinski / Thieke): Less Action, Less Excitement, Less Everything (Ftarri)
Masters of tonality, in their 2nd release the dual clarinets of Kai Fagaschinski and Michael Thieke are heard without any guest musicians, making a rich, gorgeous album of tense timbres.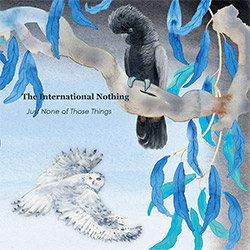 International Nothing, The (Fagaschinski / Thieke): Just None of Those Things (Ftarri)
Using harmonic intersections and extraneous sonic emanations from two clarinets, the duo of Kai Fagaschinski and Michael Thieke (also of The Magic I.D.) continue their long-standing International Nothing project of composed works through patient interactions of powerfully focused technique, here in their fifth album presenting a 42-minute work of delicate, dark beauty.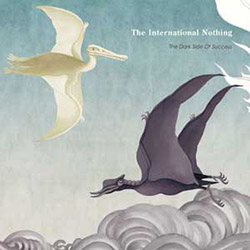 International Nothing, The: The Dark Side of Success (Ftarri)
The duo of Berlin clarinetists Kai Fagaschinski and Michael Thieke (The Magic I.D.) create rich, evolving soundscapes using tones and odd interjections in unison and in dissonance, dark works of subtle beauty in unique sound oriented compositions.
International Nothing, The: Mainstream (Ftarri)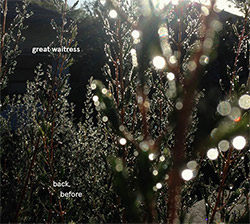 Great Waitress (Mayas / Brooks / Altman): Back, Before (Splitrec)
Gorgeously subtle improvisation of a primarily acoustic nature through unfolding soundscapes of intricate restraint and deep listening, from the trio of Berlin pianist Magda Mayas and Sydney improvisers Monica Brooks on accordion and Laura Altman on clarinet & feedback, in their 4th release, recorded live in the reverberant church hall of the Annandale Creative Arts Centre.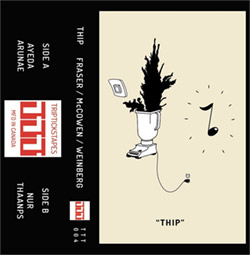 Fraser / McCowen / Weinberg: Thip [CASSETTE w/ DOWNLOAD] (Tripticks Tapes)
Recorded primarily at Issue Project Room in Brooklyn and leveraging the natural resonance of that performance space, the New York trio of innovative improvisers Henry Frase on double bass, John McCowen on Bb and contrabass clarinets and Sam Weinberg on tenor & soprano saxophones explore the peripheries of their instruments in intense and reflective interplay.
---
Squidco Website Changes:
We've continued to make progress on revamping our website for smaller devices. Visitors to our site using tablet computers should find our listings much easier on the eyes, while phone visitors will have an improved experience, but one that I'm not quite satisfied with. The complications of what is referred to as responsive design — adapting the website to screen size, platform and orientation — is fascinatingly complex and has evolved through several approaches over the years. For our site, a number of technical issues require us to ease into some of the bigger changes we'll need, but a lot of progress has been made and will continue thorough the fall. Our hope is to have the site much friendlier to any size device by the time we celebrate our 20th anniversary in January.
---




Ordered & Upcoming

Here's a list of purchases that we've already ordered and that are on the way to us. You will see them on our site in the next coming weeks, and it's possible that by the time you read this, a few may already be on the site! You can ask us to inform you via email of any upcoming release that you're interested in, with no obligation.



Thumbscrew: Multicolored Midnight (Cuneiform)

Thumbscrew: Multicolored Midnight [VINYL] (Cuneiform)



Amelia Cuni & Alex Mendizabal: STIMMEN AUS HIMMEL UND HOLLE (ANTS Records)



Alexander von Schlippenbach: Globe Unity (Corbett vs. Dempsey)

Alexander von Schlippenbach: Globe Unity [VINYL] (Corbett vs. Dempsey)



Trevor Dunn's Trio (Dunn / Halvorson / Smith): Convulsant avec Folie à Quatre (Pyroclastic Records)



Matthew Shipp & Mark Helias: The New Syntax (RogueArt)

Denman Maroney & Scott Walton & Denis Fournier : O Kosmos Meta (RogueArt)



Fowler, Chad / Matthew Shipp: Old Stories [2 CDs] (Mahakala Music)

Jeff Arnal, Curt Cloninger: Drum Major Instinct (Mahakala Music)

Blue Reality Quartet (McPhee, Joe / Michael Marcus / Jay Rosen / Warren Smith): Ella's Island (Mahakala Music)

Chad Fowler / William Parker / Anders Griffen: Thinking Unthinking (Mahakala Music)

Steve Hirsh / Zoh Amba / Luke Stewart: An Unikely Place (Mahakala Music)

Chad Fowler / William Parker / Anders Griffen: Broken Unbroken (Mahakala Music)



Nevai, Nandor w/ Tim Dahl / Trevor Dunn: << The Die Motherfucker Volume 2>> (Psykomanteum)



Paul Dunmall Quintet (Dunmall / Saunders / Foote / Owston / Bashford): YES TOMORROW (Discus)

Julie Tippetts & Martin Archer: Illusion (Discus)



Anthony Braxton and James Fei: Duet (Other Minds) 2021 (Other Minds)



Jon Lipscomb: Conscious Without Function (Relative Pitch)

Chris Pitsiokos: Art of the Alto (Relative Pitch)

Ingrid Laubrock / Tom Rainey: Counterfeit Mars (Relative Pitch)

Fred Moten / Brandon Lopez / Gerald Cleaver (Relative Pitch)

Tamio Shiraishi: Moon (Relative Pitch)

Violeta Garcia: FOBIA (Relative Pitch)



Udo Schindler, Eric Zang Erikson: Blow And Swirl (FMR)

Udo Schindler. Sebastian Grams, Gunnar Geisse: Resilient Perspectives (FMR)

Paul Dunmall, Phillip Gibbs, Andrew Ball, Neil Metcalfe , Hilary Jeffery: Newsagents (FMR)

Carlos Mascolo. M,Iguel Mira, Marcello Maglioccho: Bridge In The Dark (FMR)

Jaka Berger, Marko Jenic, Jure Borsic, Andre Bost Ruda, Jost Drasler, Vid Drasler: Sunday Sextet (FMR)

Transmap+. Evan Parker, Matt Wright, Robert Jarvis: Grounded Abstraction (FMR)

Bucher Tan Countryman: Sacred Fire Of The Free (FMR)

Countryman. Bucher Yandsen: The Malasia Live Fact Session (FMR)


---
Squidco Publishing Roundup:
continued...