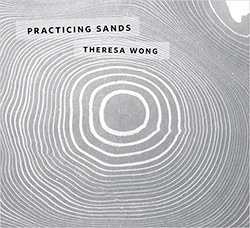 Theresa Wong's Practicing Sands is just one of a much larger wave of pandemic solo recordings that will likely take several more years to run its course. The Covid lockdowns and quarantines pushed many musicians into relative isolation from their erstwhile jam-mates. This produced many a pit of despair (weren't we all there at some point?), while, at the same time, it forced many to reexamine their musical craft and their relationship with their instruments. At least from a listener's perspective, solo work became more of a personal exploration than a product for public consumption. It simultaneously reflected a situation we could all relate to and focused more on the interiority of the psyche and the mechanics and potentialities of an instrument that had for too long been taken for granted.
On Practicing Sands, Wong relies on two instruments: her cello and her voice. The result is intimate, deeply thoughtful and finely crafted, a fitting testament to the conditions surrounding the sessions. Indeed, what better way to make sense of pandemic isolation than working with texts, as Wong so beautifully does in the second track, "Quiet Clearing"?
Practicing Sands is surprisingly varied. The first piece, "Far Away Friends", evokes some sort of stripped down free-blues with whispers of eastern scales. Other pieces veer from americana-inspired ecologues to tuneful pieces to the sheer avant garde of clicks, scratches and thuds to one brief track,
"Trees Remember", that could have fit beautifully as an interlude on Tom Waits' Bone Machine. When she sings, Wong's voice is singular as she glides from harmonizing to a hissed and fricative doubling of plucked and struck cello sounds. Consummately, Wong brings the album to a conclusion with "Opening Sea", a 10-minute drone that spins off tendrils of notes, some of which bloom into flowers and others fade as quickly as they emerge. This encapsulates the contrast between emptiness and fullness, between monotony and variation, between isolation and discovery, that metonymically reflects so much of the pandemic experience.
All in all, Practicing Sands is a series of mostly short vignettes that make a coherent whole. It seems to have a narrative, at least in mood, though the story it actually tells is abstracted, and offers a mirror into the listener's mood as much as into Wong's vision. However one interprets it at a given time and place — mournful or hopeful, claustrophobic, agoraphobic or simply structured — Practicing Sands is a poignant document of a very strange time, and one that blurs the boundary between creation and reception, between performer and listener and between personal and collective experience. What is more, it is simply good, experimental music.
Comments and Feedback: