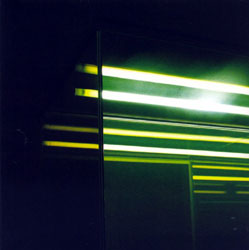 Despite the trio listed on this album, this disc in fact pivots around relative newcomer Antoine Berthiaume, presenting solo work and duos with the great guitar improvisers Fred Frith and Derek Bailey. Berthiaume is a Montreal artist working with other Actuelle musicians such as as Michel Donato, Pierre Tanguay, Michel F. Côté, Philippe Lauzier and Tim Brady.  He first met Derek Bailey in 2001 while traveling in London, and recorded the duos on this album on his second trip there, also appearing solo at an Instant Music Meeting show.  Berthiaume can also be heard on Bailey's Incus release Visitors Book.  The duos with Frith were recorded in Montreal, and the majority of the release is three pieces with Frith. A solo piece and two duos with Bailey are also presented.
On the whole the album is an excellent display of guitar improvisation.   Starting with the delicate solo piece "soshin," composed with Denis Gougeon, Berthiaume scrapes, slides and slips in with beautiful and drifting guitar work, using every inch of his instrument to create evocative sound.  Berthiaume has a great sense of space and allows the piece to evolve slowly, bringing in a deep droning chord and percussive scrape over which he improvises in fragments as the drone eventually overtakes the piece.  It is a well balanced and beautifully structured composition.
The three pieces with Frith are more playful improvisations, atmospheric and introspective while still being active.  Both players seem remarkably compatible in their conception of improvisation, and the unhurried approach lends itself both to a gorgeous quality of sound and to many interesting ideas that sneak out of each guitar. "morning froth" introduces a beautiful Frith melodic riff that reappears and bends itself away repeatedly, with a bottleneck twang feeling.  It is a refreshing piece of music, quirky, lovely and engaging. The magnificent "indicateur d'assiette" is another thing altogether, clocking in at 18:40, a strange and gigantic improvisation that has both players utilizing a variety of techniques to create an often frightening but always fascinating piece of music.  Their last piece, "wolf's wood" is an uneasy work of guitar scrapes, rumbles and unusual sounds, settling into a meandering acoustic improv with a rubbing guitar sound much like a voice whimpering in the midst of these unusual woods.
The pieces with Bailey are more abstract affairs.  "afternoon tea" is a fragmentary work with Bailey on acoustic guitar while Berthiaume provides a rich chordal backdrop, a meandering but interesting punctuation to the cd.   "aquatheque" ends the cd with an odd scraping and scrabbling piece that settles into a sort of daydreaming improvisation.  These pieces provide a great complement to the album, a balanced release of modern improvisational ideas.
Comments and Feedback: