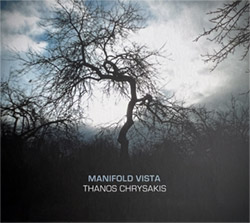 Auf Abwegen — an admirable and somewhat undersung label, best known for its frequent interconnection with the advanced sound-dismembering logic of Asmus Tietchens — released five electroacoustic pieces by Thanos Chrysakis, an old acquaintance on these pages both for his own output as an instrumentalist and composer, and as the head of an equally sterling imprint, Aural Terrains. The handsome photographs adorning the cover of Manifold Vista optimally complement the quality of the program presented by Chrysakis: inscrutable only on the surface, these soundscapes in fact disclose luminously profound refractions, repeatedly affecting the temporary subconscious of the receiving subject.
This writer recalls a few standouts in his direct experience with this laudable album. The title track presents barely intelligible harmonic alterations, constantly mutating through a swarm of buzzing trails and partially camouflaged signals, all of which are interspersed with "presences" on a smaller scale of more tangible noises. The radiant conclusion nearly gave us back the hope that first appeared when we, as kids, saw the alien's smile in Close Encounters Of The Third Kind. "Perennial Cartography" creates magic via the sheer juxtaposition of hollow frequencies, ear-piercing pitches and echoes of uncertain origin, the whole shaping a mourning "om" of sorts at the end. "Afterglow" employs electrically charged tones to build a miniature cosmos of oddly resonant locations that simultaneously convey impressions otherworldly and baleful.
Putting aside specific highlights, this effort's most praiseworthy aspect is the complete absence of the creator as the center of attention in favor of the dazzling, unselfish beauty of the music, the clarity of the smallest details directly proportional to its overall mystery. In this sense, Chrysakis appears to have unwittingly adopted electronic composer Roland Kayn's view of the inherent ability of sound to produce the finest forms of art. Whatever the theory (or lack thereof) underpinning Manifold Vista, its unquestionable excellence — substantiated by repeated listens via speakers and headphones — continues to serve as its foundation.
Comments and Feedback: