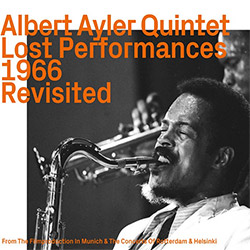 Making sense of a discography such as Albert Ayler's can sometimes seem like doing an elaborate jigsaw puzzle with some of the pieces missing. Lost Performances 1966 Revisited features recordings from Munich on November 4th or 5th (sic) 1966, Rotterdam on November 8th, and Helsinki on November 9th which are here being released for the first time. As jigsaw pieces go, this one fits neatly with the 2021 ezz-thetics album 1966: Berlin, Lorrach, Paris & Stockholm Revisited as that Berlin concert was on November 3rd 1966, Lorrach on November 7th, Stockholm on 10th, and Paris on 13th.
The quintet of Ayler on tenor saxophone, his brother Don on trumpet, Michel Samson on violin, William Folwell on double bass and Beaver Harris on drums was unchanging across the two albums' seven dates. The bassist and drummer were debuting with Ayler on this tour and afterwards would play regularly with him; Samson had already played and been recorded with Ayler in the USA, since earlier in 1966, the first violinist to record with the saxophonist. Small print on the sleeve of this album says that, due to technical flaws in the recording of Rotterdam and Helsinki, the violin is very dominant in the mix, which often obscures the other elements; while there is a grain of truth in that, having the violin to the fore does not spoil the listening experience as each player can be heard throughout.
Of course, as this recording documents a tour, there are bound to be pieces which were played more than once; so "Infinite Spirit" is heard on each of the three days, "Our Prayer", "Truth is Marching In" and "Prophet" are each heard twice. Surprisingly, "Ghosts" is only heard once here, but anyone feeling short-changed should seek out that 2021 album which has it three times alongside other repeat performances. With Ayler's music, such duplication never becomes tiresome or tedious as his ensembles did not stick to some pre-planned structures but roamed free, listening and responding to what their bandmates were playing; the only exception seems to have been Harris' drum solo which appears twice, both times during "Prophet". Rather than individual solo spots, it is far more common for everyone to effectively solo together, ever mindful of what their bandmates are doing. Yes, there are recognisable melodic sections which identify individual pieces, but sometimes they are curtailed, stretched out, repeated or quoted elsewhere. It is not surprising that so many of Ayler's piece had quasi-religious or spiritual titles as the ensemble's playing can often mirror the kind of hysteria an evangelist can generate in a congregation; ecstatic audience appreciations when pieces end only serve to reinforce this parallel.
Comments and Feedback: