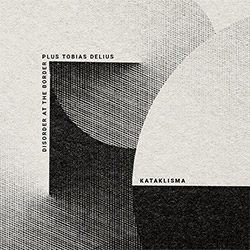 Expanding their territory in a more cordial and beneficial manner than Russia's imperialist designs, the Disorder At The Border trio of Italians, reedist Daniele D'Agaro and bassist Giovanni Maier, plus Slovenian percussionist Zlatko Kaučič, welcome the input of British reedist Tobias Delius. Disorder here refers not to sound disarray but that an integrated quartet can add more textures and color to its freewheeling and technically challenging improvisations.
In spite of differences in sonorities Maier's string strums and rubs are as prominent as the louder instruments; an enriched spiccato solo even introduces "Polyphemus". As well, whether emphasizing wooden nerve beats, swift clip clops or punctuating narratives with reverberation that could result from bashing a garbage can lid, Kaučič varies his contributions depending on tempo, volume and intensity.
Throughout, however, emphasis is on the interplay between D'Agaro and Delius, with both playing tenor saxophone or clarinet in varied combinations. One produces straight-ahead sax textures, while the other tongue slaps and barks out aviary caws, for instance. Or intertwined clarinet lines involve clarion puffs from one and squeaks and peeps from the other. As the 40-minute plus "The Smartno Odyssey" becomes more pressurized both seem to repeatedly switch between horns so that foghorn-like expression mixed with triple-stopping bass strings or snarling split tones matched with drum slaps can't be individually attributed. Eventually a mid-point crescendo, followed by a single cymbal clap, downturns to a moderated interlude as beautifully rounded notes flow from both saxophones. From that point on horizontal advancement is maintained by Kaučič's and Maier's sophisticated pacing, with circular breathed reed respirations, altissimo screeches and double-tongued glissandi accenting the flow to a logical conclusion.
The opposite of any war-like disorder at the border, the four demonstrate that multi-country collaborations can result in exceptional sounds. Too bad Vladimir Putin isn't a jazz fan.
Comments and Feedback: