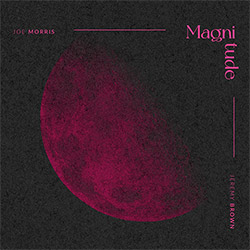 Despite the guitarist's efforts to shuffle the cards of his innumerable influences whenever the occasion arises, thus creating new food for thought in reference to an improvising environment, everyone who has truly heard Joe Morris play is immediately able to recognize his touch. Morris' deftness in rapidly detecting the physical transition from linear to harmonic, and vice versa, is directly correlated to the clarity of his picking, plainly audible even at extremely high speeds. Within a given temporal frame one can catch frenetic scales, unexpected clusters, and excursions through the instrument's less erogenous and more hostile zones. Sometimes Morris applies his knowledge with what appears to be a nonchalance of sorts; on the contrary, he is laser-focused throughout, and trained ears respond accordingly.
In Magnitude, Morris also deserves credit for introducing us to Jeremy Brown's improvisational individuality, which emerged fairly unexpectedly during a sequence of encounters that started in 2017, while the two were on the same faculty at the University of Calgary in Alberta, Canada (Brown is a Professor of Music there, Morris was at the time a Killam Visiting Scholar). Possessing excellent technique and exhibiting it here on alto saxophone, flute and clarinet, Brown is the epitome of a quality that is unsurprisingly uncommon in academic circles: a genuine openness to the unfamiliar. In these recordings, he reveals a whole universe of gorgeous phrasing that is both graceful on a formal level and somewhat unanticipated from the point of view of the recipient. This could only happen by probing hitherto undiscovered ground of his own being as a performer, something that is perceptible since the very first spin.
Beyond an almost certain declaration of aural brilliance, the gradual emergence of a close friendship rooted in shared artistic interests may be the most fulfilling intrinsic manifestation to examine in this context. This album marks a pivotal moment in Morris and Brown's respective careers for a number of reasons, including the ease with which their insights converge, the fluid development of their counterpoint, and the combining of meaning-filled fragments inside a stylistic integrity. Although it is sharp music, it is never antagonistic. It identifies ways forward in terms of quick and effective thinking as well as from an instrumental angle. Virtuosity is indeed beneficial, but it is not displayed in a glittering gallery for gullible worshipers. Those who can listen, independently synthesize, and apply in daily action are granted exclusive access.
Comments and Feedback: