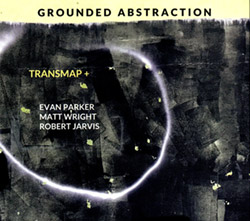 Adding another dimension to the creativity of the British Transmap duo of soprano saxophonist Evan Parker and laptop manipulator Matt Wright is trombonist/sound installation artist Robert Jarvis, who has worked with both in the London Improvisers Orchestra. Jarvis' brass mastery means that pedal point gutbucket slides and breathy swoops blend precisely with Parker's nearly patented command of reed twittering and trilling circular breathing and Wright's collection of oscillated sputters and flutters.
With Wright's wave form vibrations creating ostinato drones, backward running flanges or live processing, contrapuntal challenges arise between irregular reed vibrations and warbling plunger slurs from the trombonist. These portamento brass interjections are also necessary respites to what at points seems a solid mass of continuous clarion projections from Parker.
Besides tonal provocation, Grounded Abstraction includes sympathetic interaction. When, for instance, Parker unleashes a prestissimo flurry of shrill vibrations and tongue slaps, Jarvis counters with grainy half-valve burbles and moody smears. Operating alongside them is Wright's textures, which can range from water bowl like rubs to hurdy-gurdy-like clips and clanks. Meanwhile horn gesticulations also often meld for linear expression.
A truthful designation, Transmap+ literally describes a superlative plus affiliated with an already significant creative music force.
Comments and Feedback: