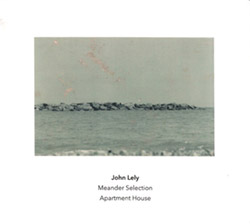 Born in 1976, John Lely has been involved in so many activities that a list of them can easily make one feel like an under-achiever. Having studied at Goldsmiths, University of London, from 1997 to 2000, from 2003 to 2008 he taught composition and creative strategies there, as well as experimental sound at Chelsea College of Art. He currently teaches at Trinity Laban Conservatoire of Music and Dance, in London. Surprisingly, Lely's first ever album was the freely improvised 396, with Lely on piano and prepared bal-bal tarang, Seymour Wright on saxophone and percussionist Yann Charaoui, recorded in August 2000 and released on Eddie Prévost's Matchless label in 2001. In 2005 Lely and fellow composers Tim Parkinson and Markus Trunk co-founded the concert series Music We'd Like to Hear, which remains a vital part of the cultural life of London and beyond. From 2008 to 2010 Lely was a researcher at Bath Spa University. 2012 saw the publication of a book he and James Saunders co-authored on text scores entitled Word Events: Perspectives on Verbal Notation.
Lely occasionally performs as part of the ensemble Apartment House, of which the leader, Anton Lukoszevieze, says that Lely's music has run a continuous thread through the ensemble's programmes for some twenty years. Meander Selection eloquently provides evidence in support of Lukoszevieze's opinion, as all the album's tracks were performed by members of Apartment House, including one entitled "Pale Signal" on which Lely himself plays solo electronics. That track is very different to the others and was recorded by Lely in his birthplace, Norwich, in October 2020, while the rest were recorded by Another Timbre's Simon Reynell at Goldsmiths Music Studio or the Old School, Starston, between 2019 and 2022. All tracks were mixed by Lely. As the album title suggests, the tracks on Meander Selection are various Lely compositions from 2012 through to 2020 which give some idea of the diversity of his music.
The music on Meander Selection comprises four string quartets — including one with a violin, two violas and a cello — two solo piano pieces played by Mark Knoop, and an electronics piece. The album's seven tracks, which total sixty-nine minutes, together paint a good picture of the variety of Lely's music and his development across the years in question. So, the three conventional string quartets, "Doubles", "Karnaugh Quartet" and "Meander Section", from the years 2012, 2020 and 2018 respectively, differ considerably; on the first, the strings play prolonged notes that overlap, creating a drone effect which is both pleasing and soothing; at thirteen minutes, the second is the longest of the three, and also the most energetic as the strings play short staccato notes creating steady rhythms which do not flag; the third is closer to the first with long notes which never quite merge into a drone. The two solo piano pieces, "for Philip" (2013) and "Nocturne" (2017), are quite different but similar enough to be recognisably from the same composer. All things considered, Meander Selection is an enjoyable, coherent collection of Lely works which is unreservedly recommended to Lely devotees and to those seeking an introduction to this fine composer.
Comments and Feedback: