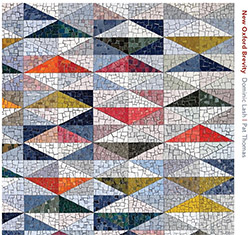 Putting aside his usual double bass for the guitar, Dominic Lash joins with fellow UK polymath, Pat Thomas for sonic dissertations on profound improvisations. Lash, has recorded with the likes of John Butcher. Meanwhile Thomas has brought his piano and electronics to work with everyone from Evan Parker to William Parker.
This time the piano is acoustic, but the guitar is electrified. Dedicated to close listening and in-the-moment responses, the two, who have played together for 20 years, create duo improvisations that are not all brief, but certainly current. Most involve Thomas extracting resonating textures from both the keyboard and the piano's innards to meet Lash's metallic strums, projected fuzztones, slurred fingering and ringing twangs. Piano progressions or reactions take many forms, including calculated processional runs, single note stops and rumbling tones involving internal string reverberations as well as pedal pressure.
Of a piece, but spread through many forms, Thomas' chordal advances and Lash's connective strums target slow shuffle grooves as on "Relatively Stable", abrasive string stabs and caustic piano string scrapes as on "Hikmah", or seamlessly slide from one mode to another. An example of this is "A Flower Is A Source Of Joy". It begins with a waterfall of piano glissandi, guitar buzzes and squalling flanges as energetic as a Cecil Taylor / Derek Bailey duet, and concludes with keyboard dusting and subtle string clips, in balladic form as meticulous as the Billy Strayhorn composition it references.
New Oxford Brevity easily confirms Thomas' piano mastery and affirms Lash's hitherto unknown talent as a guitarist.
Comments and Feedback: