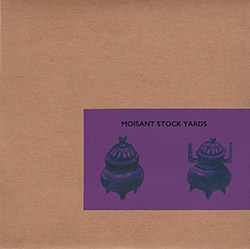 This unassuming little disc pasted with the image of some infernal object packs quite a wallop. For those who don't know, Tatsuya Nakatani is a globe-trotting percussionist who's played with seemingly everybody, in addition to founding and performing with his Nakatani Gong Orchestra. Here he is recorded in concert with Loisiannan Rob Cambre and erstwhile Borbetomagus neck-wringer Donald Miller. (Whether or not Emmalee Sutton contributes any sonic additions I do not know.)
You can kind of guess what this is going sound like, and yet I think you'll be surprised. It's not all bombs and tracers, for one thing. The slide guitar train-horn imitations about 3 minutes in serve to set up odd moments of relative calm and contemplation, serving up the quick-quick and first-thing-in-the-morning alarm bells in rapid succession. "Things" leap out and then recede; some are smooth and some are bent and stressed by drum pounding; some are mysterious and fleeting; and some hang around a bit and taunt you. When the groaning and tingly metals arise, it's a nice surprise. Then we're awarded an extended section of feedback and metal bowing with the kind of bass drum "bombs" that would do Max Roach proud.
Over the course of two lengthy expositions things will ebb and flow, slip and slide, but never abate or fall prey to the question "what now?" Just try and keep track of who's doing what here, I dare you. Nakatani's drums and cymbals sound like forces of nature and the guitars often mimic monstrous engines, if not whole factories. The trio veers wildly from six-year-old-tantrum flailing to slicing your lobes like a surgeon, and then lulling you into calm contemplation before the floor opens up and off we go. You wish you were having this much fun.
Comments and Feedback: