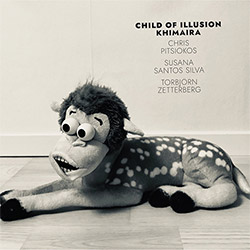 Although named for a three headed monster in Greek mythology, there's more beauty than beast in this single improvisation from the Child of Illusion trio. Consisting of U.S. alto saxophonist Chris Pitsiokos, Portuguese trumpeter Susana Santos Silva and Swedish bassist Torbjorn Zetterberg, "Khimaira" is episodic but finally cohesive.
Stabilized by the bassist's ever-shifting thick pizzicato thumps and intermittent arco sweeps, Zetterberg's measured ostinato allows the horn players' textures to speedily fragment and reassemble over and over. Beginning with harmonized reed split tones and brass bites, skyscraping harmonies soon fragment into bright bugling and half-valve sniffs from Silva and tongue slaps and stentorian snorts from Pitsiokos.
As the exposition is moved forward by Zetterberg's swift strums, varied strategies are tested and replaced. The saxophonist's unexpected moderated trills in the first section are challenged by first mellow then grainy obbligatos from the trumpeter. When Pitsiokos' mid-point tongue stops remain almost motionless Silva responds with air forced through her horn without valve movement. And reverse timbral challenges from brass to reed are also examined.
Following an interlude of protracted silence in the penultimate sequence, the bassist gets a rare solo spot where his thick woody pops are decorated with nuanced accents by the others. The final sequence introduces more straight ahead brassiness and reed flutters until brassy triplet wails and double-tongued reed hisses reassert the horns' fractured interaction as well as the piece's constant horizontal motion.
Khimaira may be thought of as a child of illusion. But there's no delusion in how well these well-travelled improvisers are able to create ever-changing and captivating sounds.
Comments and Feedback: