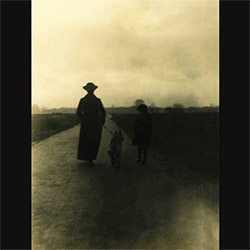 Waves of electronic tanpura and buzzing snares make a bed for Martin Kuchen's North African sounding saxophone ruminations. From the get-go we're engulfed by a heavy harmonic atmosphere constructed of droning tanpura and buzzing snares. 3 or so minutes into "Ein Krieg in einem Kind...(a war in a child)", this atmosphere thickens even more with the inclusion of another layer of dust embedded with sorrowful choir sounds. Kuchen's alto here becomes more insistent, sometimes drowning in the sea of hiss and buzz and ghostly voices, a man overwhelmed by his memories.
"Martha" begins unaccompanied, just a mournful air offered up alone until the drone starts up and the melody is set in a mist of burr and hum. The sax tone here gradually becomes more heavily coated with granular soil, moving it closer sonically to the dirty drones. Occasional metallic rattles explode over the whole endeavor, distorting things even more. One could perhaps characterize these pieces as some form of accurate world music — utterly contemporary and often indicative of our current predicaments. The beauty of prayer amidst the turmoil of war. Or some other similar lofty assignation.
Midway through "A desert on fire, a forest / The indispensable warlords", a high pitched whine intrudes, the pressure of unwanted responsibility interceding. Faint vocals drift through and rise up around Kuchen's ever-emphatic wail. There is much interesting tonal and timbral information here as well as nearly overwhelming emotional force. That these pieces of music were recorded live makes them all the more astounding.
Comments and Feedback: