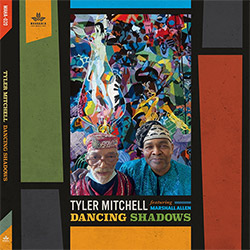 Dancing Shadows is the latest release from bassist Tyler Mitchell. On it he is joined by several fellow Arkestra members — percussionist Elson Nascimento, drummer Wayne Smith, and the incomparable Marshall Allen on sax and EVI. These four are joined by two saxists, Chris Hemingway on tenor and Nicoletta Manzini on alto, who come from more traditional modern jazz backgrounds and offer balance to the others, who have spent so many years plumbing the Afro-futurist cosmos. They also foreground the fact Sun Ra's music is not just strange and avant-garde. It was originally intended to appeal to the sensibilities — 50s jazz, swing, and R&B — of audiences who needed cajoling and pop toe-tapping to before reaching the more outre dimensions of the music. Indeed, many of these pieces come from the Ra and Allen's early years in Chicago — Interstellar Low Ways, Angels & Demons at Play, Enlightenment, A Call for Demons. The two additional Arkestra pieces included on the album, "Dancing Shadows" and "Carefree", were first recorded decades later in Ra's final decade. Other compositions include Skippy, a Monk tune first recorded in 1952 (which, incidentally, was the same year that Herman Blount legally adopted his working name Le Sony'r Ra), two pieces by Manzini and three by Mitchell himself.
Dancing Shadows might best be considered an augmented Arkestra album. This pared down ensemble and the addition of two new voices help different aspects of the Ra compositions shine. Just listen to the immaculately tight run through "Dancing Shadows" or the instrumental, lounged-out version of "Enlightenment", which sounds especially fresh with Mitchell's haunting arco intro. Or listen to the sultry cosmic post-bop of Manzini's "Spaced Out" and "Space Travelers". Or take Mitchell's compositions, which run from bluesy numbers ("Nico" and "Nico Revisited") to a true standout, "Marshall the Deputy". This one is a tempestuous homage to Marshall Allen, who features more prominently on it than on any other track. Actually, one aspect that makes this release stand out from other modern Arkestra releases (whether formal big band ones or various offshoots) is Allen's relative quiescence, apart from his titular track. For most of the album, he plays a supporting role, as Manzini and Hemingway stretch into atonal realms, Mitchell dances brilliantly along the neck of his bass and Smith and Nascimento push their blustery polyrhythms to the foreground.
In the liner notes, Tyler Mitchell explains that he conceived of this album with the understanding that, "There's really nothing new under the sun. Everything's been done in some form or fashion." Therefore, why not mix elements from Ra and Arthur Taylor — another bandleader under whom he had worked — and the other musicians? Why not double-down and dig back into the tradition, peppering a few new cosmos-minded compositions into the repertoire? Why not build off what came before rather than reinvent the wheel, or, maybe more appropriately, solar disc? Indeed, this building is still Allen's charge in his role as Arkestra bandleader — not only performing what are now veritable classics but giving life to lesser-known Ra compositions and (finally) more of his own. On Dancing Shadows, this seems Mitchell's task, too, and he achieves it. A fine addition to the post-Ra canon.
Comments and Feedback: