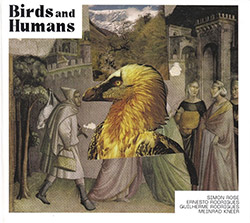 Although bird sounds can be faintly heard during the final sequence of this seven-part instant composition it's the textures the human musicians create that predominate. Berlin-based, the quartet consists of Portuguese father and son violist Ernesto Rodrigues and cellist Guilherme Rodrigues, German bassist Meinrad Kneer and British baritone saxophonist Simon Rose.
Balancing high and low pitches from matched instruments, the viola's and cello's aviary-elevated textures are harmonized or shredded in response to low-pitched double bass sweeps and reed spetrofluctuation. As the narrative evolves, super speedy spiccato string scratches slide back and forth against subterrestrial smears from Rose to create a resonant exposition whose horizontal thrust isn't weakened by detours into strained reed split tones, torqued arco rattles from the higher-pitches strings or Kneer's col legno raps. For every narrowing upward thrust that sounds almost human-vocalized, there are equivalent downward tones expressed by pizzicato bass motion mixed with lowing timbral scoops from the saxophonist.
As the narrative evolves both concentrated and fragmented, the repeated string ostinato become warmer, more focused and almost lyrical. But this potential slide into near-conventionality is quickly sabotaged as string section unity dissolves into barbed and brief string clips, pop and wood wrenching, while the saxophonist's duck-horn-like cries further mock smoothness. During the concluding sequence, the cries of distant fowl become more audible. Although the piece dissipates into bass strums, saxophone tongue stops, layered string squeaks and sawing confirm the players' sophisticated human interface. Overall, the shape of a well-measured instant composition is demonstrate and defined.
Comments and Feedback: