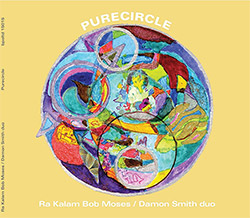 Applying to their utmost the timbres, textures and tessitura from the double bass and percussion, veteran drummer Ra Kalam Bob Moses, and younger bassist Damon Smith play up the instruments' orchestral as well as rhythmic functions. Moses, whose career began in the 1960s, and Smith who has partnered numerous international improvisers have played together in larger groups. But as a duo none of the 14 tracks sound reductionist.
That's because each uses his instrument to its utmost. Moses, as he demonstrates on tracks with a Middle Eastern or African flavor, adds textures from gongs, spring drum and other percussion. Smith, produces sounds from every part of his instrument from scroll to spike and on its wood as well as strings. In fact the first three selections have the bassist sweeping, smacking and stretching stentorian and supple string strategies to fit Moses' pre-recorded pulses,
More pertinently on a track like "Wild Foam", Smith uses a mallet to smack his strings when not creating woody strums, and ends up with percussiveness more pronounced than Moses' rumbles. On "Sound Hangs Hopelessly in the Sky", his hearty twangs and high-pitched string stropping are as powerful as the drummer's cymbal splashes, rattling paradiddles and echoing ruffs. Instantly though Smith changes the aural scenery with a bowed coda that could pass for romantic music. Each player also pivots to a near solo track. On "Invisible Bell" Smith's double and triple spiccato soars to near-violin timbres then vibrates downwards to proper bass stops. Meanwhile "Heavy Earth" is based around an unforced drum shuffle that becomes a near percussion concerto. Pops and press rolls are heard without Moses ever losing rhythmic connection.
Expressing themselves carefully, Smith and Moses create a pure circle of notable sounds.
Comments and Feedback: