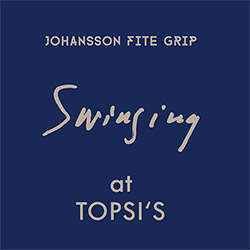 Already at the first snare pattering and the twangy plonk of the acoustic guitar and upright bass that follow, the listener can sense what they are in for. Recorded at Au Topsi Pohl, a young venue that somehow has already become a pillar of the Berlin scene, Swinging at Topsi's documents a night of free jazz rooted in the free improv of the late 1960s. From the recording, one gets the sense that this night was both representative and special, when all the pieces seemed to fall in order.
The line-up is Sven-Åke Johansson — a pillar of that earlier Euro scene — on drums, Niklas Fite on acoustic guitar and Joel Grip on double bass. (Grip also helps organize the concert series for Au Topsi Pohl.) What they produce in the first two tracks — Set 1 and Set 2 — which form the heart of this album, is a consonant string of clunk and motion with hints of the winding melodies of the bop and post-bop eras. Niklas Flite's guitar displays this stylistic tension as much as Grip and Johansson's contributions do, as he frequently and adeptly flirts with the jazz chordal tradition while remaining woody and choppy enough to escape fading blandly into the background.
In the best tradition of Johansson's era of free improv, moreover, this trio is not afraid to swing and strut when the mood hits them. That, however, is just one constitutive element of the first two tracks and is always somewhat jagged and fractured. Fracture, however, does not necessarily mean a dissociation from each other or past tradition. And this engagement with the past through deconstruction and reincorporation is another layer that makes Swinging at Topsi's so engaging and, even, comforting. At times, it feels like a welcome revisitation of that earlier free improv scene that, for all of its destructive and iconoclastic impulses was actually deeply engaged with the styles that preceded it, which formed the basis it needed in which to deviate further from the western classical and pop norms. Such an engagement comes through even more strongly in the playful 3-minute jaunts through the standards "Isn't it Romantic" and "Out of Nowhere" that close the release, wherein Johannson temporarily sets aside his drum-set to sing. Naturally, these pieces are less outre but, in their juxtaposition with the first two pieces and lack of pretension, are somewhat stranger and enchanting.
In a world of so many contending styles of music, it is refreshing to have releases like this, that nod to the progressive past and, incorporating a half-century of musical development and hindsight, effectively carry some of that spirit into the contemporary. As much as anything else, this release shows that 68er aesthetic, in four new hands and two old, is still alive, well, and adaptive.
Comments and Feedback: