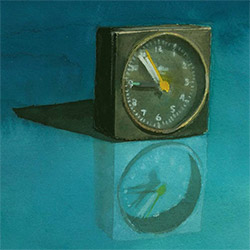 These two accomplished instrumentalists on choral instruments that can be problematically incompatible are here balanced in synchronized and sympathetic ways to make some fine music — 12 tracks to stand in for the twelve sections of an hour, here purportedly missing or disappeared.
Courvoisier's piano and Halvorson's guitar are each distinctive sounds in the world of contemporary creative music, and each stands out as a strong individualistic voice, but almost miraculously, given the idiosyncratic distinctions of each artist, they play as one in music that is at times serene and flowing at others frenetic, and loopy.
The idea of the glitch underpins a lot of what is going on here, at least to these ears. The bucolic romantic playing that the piano lays down recalling Debussy at times, or Rachmaninoff at others, has the rug pulled out from under it, as the players undo the threads or reconfigure them on the fly. The guitarist's use of effects contributes greatly to the glitch aesthetic, as she throws a chord out of tune, or creates a strange mini-loophole in placid passages turning them into a form of parody or marginal commentary on the aesthetics alluded to, which echo the traditions of European piano music and some of its jazz-adopted colors and textures.
The compositions breathe with free interplay between the two artists, and the sinewy technically contoured passages they play in tandem are exciting to hear, as they float along freely even when the fingers are being obviously taxed. Two minds soaring as one is always a good thing in duos of this sort, and that is exactly what we get here.
Comments and Feedback: