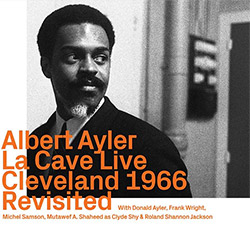 A welcome upgrade of these mid-period Ayler recordings which first surfaced on that heavy "Holy Ghost" box set back in 2004. These sets captured the Ayler brothers in ecstatic tongues-of-fire mode, together with Michel Samson on violin, Ronald Shannon Jackson on drums and last-minute recruit Mutawef Shaheed on bass. They are joined for one night's revelry by Frank Wright on second tenor sax, though you would be excused for not realizing just when his contributions can be heard, so close is his approach to Ayler's. The remastering job is truly revelatory, bringing out a lot of the bottom end and helping to separate the instruments quite a bit. You can hear Samson's violin, even during the louder more frenetic bits, and the drums have added tone. You can even hear band members encouraging each other at various points.
Albert Ayler's music started mutating right out of the box. After his initial, rather stulted outings with Scandinavian session men in 1962-63, he seemingly leapt forward after finding the perfect accompanists in Gary Peacock and Sunny Murray, and then added soul mate Don Cherry for a beautiful studio date and a European tour. By 1965 his band and music were changing again with the addition of Charles Tyler on alto sax and longer, more complex many-part compositions. His brother Don was also added at some point around this time, bringing even more heat to the band's full boil. There would be more personnel changes to come, but the core of this version of the outfit remained steady for a year or so, touring Europe and recording a live album for Impulse!. It was this group that was once referred to as sounding like "a Salvation Army band on acid", and that may be a fitting description and not at all a derogative one. At the heart of Ayler's music was his upbringing in the church, and heard in that light his course makes perfect sense, from fledgling attempts to spread the word to outright preaching in the company of like-minded companions. If my church-going experience had included music like this I might still be attending.
For those unfamiliar with Ayler's music (if there still are any), a brief description might be helpful. The themes are generally short, based on very un-jazz sounding melodies with simple harmonic underpinnings. Think fanfares or marches and you'll be very close. At some unseen signal things accelerate, often circling around a short phrase until it becomes a loud smear of sound, out of which a single voice will emerge in full flight. At times things get a bit mangled as everyone seems to be chomping at the bit to stand up and proclaim, and this adds to the general excitement. Ayler yields the floor to his band mates often, giving everyone plenty of space to speak out. Frank Wright sounds like he's bringing it — to show Ayler what he's learned — and Don's trumpet conjures images of swarms of hot hornets. Things aren't all fire and fury though, and usually somewhere in the midst of the emotional outbursts there's a period of calm agreement. Occasionally too we get interesting segments featuring just the strings and Jackson's flinty support. His drumming lends a different feel to this band, quite distinct from the spacey float of Sunny Murray or the everything at once poly-rhythmics of Milford Graves. During some passages he gets to bashing and stirring up the air mightily while still maintaining a strong sense of swing. It's exhilarating, perhaps even a little exhausting, stuff. You'll be excused if you can't quite sit through the entirety of both discs.
A couple of weeks after these recordings were made, this same band, with Lewis Worrell on bass, were captured at Slugs saloon in New York City. By then they had become tighter and yes, a bit more controlled, if not every bit as manic and insistent. Another tour of Europe would then find Bill Folwell and Beaver Harris in the rhythm section, and yet again a slightly different feel. These La Cave recordings give us an opportunity to scrutinize a detailed representation of Ayler's music as it stretched and morphed, and the spit and polish make it easier to parse the various components of it.
Comments and Feedback: