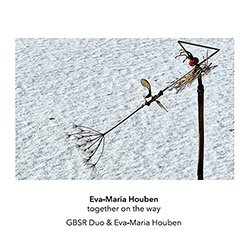 Eva-Maria Houben is an academic, musicologist, composer and keyboardist who has published many books since the mid-80's, and an eye-watering number of compositions for a range of instruments, those compositions having been published by Edition Wandelweiser since 2000. Her recordings have been released by Edition Wandelweiser Records since 2004, and also on her own Diafani label since she established it in 2012. While those two labels account for the lion's share of her discography, Houben albums have also been released on other labels such as Creative Sources and Irritable Hedgehog; her compositions have appeared on two previous Another Timbre albums, including the label's box set Wandelweiser Und So Weiter, but Together on the Way is the first recording on the label to also feature her as a performer.
Together on the Way was recorded in concert by Simon Reynell, in November 2021, at St. Paul's Hall during the Huddersfield Contemporary Music Festival, which commissioned the piece. In typical Wandelweiser fashion, notes are heard from their beginning, right through their decay, to near silence; to capture such detail required first-rate recording, and that is exactly what the music received from the capable hands of Reynell. The album comprises the sixty-seven-minute title piece. On it, Houben, playing the St. Paul's Hall pipe organ, was joined in a trio by Siwan Rhys on piano and George Barton on percussion, the pair going by the name GBSR Duo. Houben had previously played in a duo with Rhys in London in 2019 and describes that as a wonderful experience for both of them. She also says she is entirely happy with trio's performances in Huddersfield.
Houben refuses to use the terms "through-composed" and "loose structure" to describe the end points of a spectrum, as she says they do not refer to the musicians' musical practice; she adds that the composer is not the last authority in a process of discussion and rehearsal. Her views are exemplified by the recording itself. All three strands of the trio's playing can be clearly heard throughout the piece, and they fit together well. There are no shocks or surprises; instead, the music unfolds gently in ways which feel logical and sensible. Houben's organ supplies a background that underpins everything, with occasional interjections from piano and percussion providing enough detail to keep the music engaging. The music radiates the trio's mutual respect, burgeoning friendship and enjoyment of playing with one another.
Comments and Feedback: