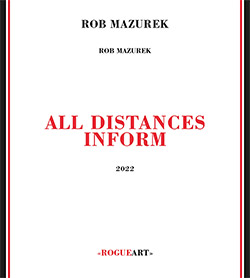 I've never been a fan of the piccolo trumpet, despite its beautiful searing sound in the hands of a master like Maurice Andre, or the impressive athletic virtuosity of a Peter Evans. But mostly it just usually sounds too thin and airy, lacking the body of the lower pitched Bb trumpet. In this release, however, Rob Mazurek manages to trick the ear into hearing a full-bodied horn with lots of curves, volume and depth.
The effects of this are due, in large part, to the physical spaces in which the tracks were recorded — different halls and rooms in a building belonging to the Chinati Foundation in Marfa, Texas. The whole album presents, as it were, 11 facets of the jeweled sound that the piccolo trumpet is, surprisingly, capable of...in the right hands. But another reason for the success of this album is the two-microphone recording set up by Ken Christianson to capture the natural reverb of each space, each having its particular natural characteristics, or what you would call a "setting" in sound processing. Here these are provided by the laws of physics and acoustics, both on the player's end via control of breath (as the liner notes by Tom Johnson with their reference to poet Charles Olson's Projective Verse principles suggest), and his sensitive interaction with the sonic space.
The tracks also benefit from distancing the sound source, which we get in "Piece VI (As Distance Reveals)." "Piece VII (Backward Movement)" gives us the exploration of decay in a room. "Piece I (Main Room North)" has a more breathy lyrical sound. The last track makes use of lowercase, pianissimo sounds of air through a prepared horn as well as clicking of valves. Each of the tracks explore aspects of articulation on the horn, yes, but central to the session is the acoustic response of the room in question, including several tracks in evidently smaller spaces than others, and the wide open sound of obviously airy spaces, with Mazurek playing off the possibilities of sound quality, getting from the diminutive trumpet gargantuan results.
This is not to say that intervallic and motivic thinking aren't at play here. That is the other side of the coin of this music. Much like Bill Dixon, Joe McPhee, Alex Dörner, and so many other great trumpet players of recent memory, Mazurek knows how to be present and attentive on all levels to the musical gesture in a physical world.
Comments and Feedback: