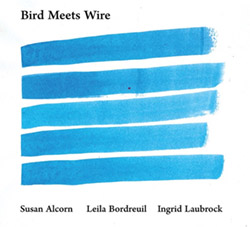 On the surface, the trio of Susan Alcorn, Leila Bordreuil and Ingrid Laubrock seems an unlikely combination, comprising players born in the USA, France and Germany, respectively - although they are all now resident in the US - and of three different generations. Once their instruments - pedal steel guitar, cello, and tenor or soprano saxophone - are also considered, the combination may look slightly more unlikely...and that is before we note that this is an all-female trio - how many of those can you name? To all of the above, add the fact that the trio's debut album consists of freely improvised compositions including two based on folk and protest songs - "El Pueblo Unido" and "Wayfarin' Stranger" - and that the album's recording date was April 1st 2018.
Those seeking to demonstrate that they were not being hoaxed would doubtless cite the fact that Alcorn and Laubrock have history together, dating back to the time when they were both members of the Mary Halvorson Octet which recorded Away With You (Firehouse 12, 2016), and that Bordreuil had previously shared a stage with each of her trio bandmates. Despite such documentary evidence, the most convincing proof that this trio is genuine is the music itself. Across the album's seven tracks, totalling fifty-five minutes, the three musicians show that this instrumentation makes perfect sense; the sounds of the different instruments fit together and complement one another well. Their playing is text-book improv, the three all playing together for the majority of the time, with no-one soloing as such but all three responding to each other and being audible throughout.
The album opens with the eleven-and-a-half-minute "Area 41", a dark, brooding piece which evolves slowly, with the emphasis on atmosphere, and all three players favouring sustained notes; it makes a good introduction to the trio. In complete contrast, "Topology" the only track of comparable length, is led off by melodic phrases from Laubrock's sax, setting the tone for the piece. Unsurprisingly, "Cañones (El Pueblo Unido)" and "Indigo Blue (Wayfarin' Stranger)" are two of the more melodic pieces on the album, with all three players contributing to that. However, all the tracks here are worthy of praise without any being particularly singled out. As an album, Bird Meets Wire has its own distinctive style, one of which we should hope to hear plenty more in future.
Comments and Feedback: