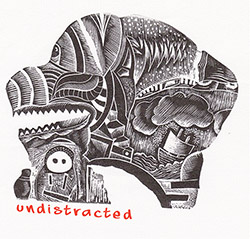 Who but saxophonist, teacher and philosopher Paul Dunmall would include a piece titled "Can't Wait to Get Om?" It brings to mind Moksha or Mocca, another installment in his DUNS series, from which this disc is also reissued. Bassist Paul Rogers and guitarist Phillip Gibbs also participated in that session, and they are joined by pianist Andrew Ball and trumpeter Jonathan Impett. The title's humor belies the music's scope and profundity. Listen as it all rises from the depths of long-fostered improviser experience, a beautiful guitar ostinato complemented by upper-register evocations from Ball and a perfectly timed tone from Impett. That tone itself morphs into a bit of vocally inflected humor as the music coalesces along its slow-burn path. Rogers and Dunmall don't interject so much as whisper their respective ways into the dialogue which slowly escalates, as is the free improviser's prerogative.
Those opposites in glorious tandem encapsulate what is so enlightening about a session such as this. Listen to the minute but infinitely implicative gestures opening the titular piece, inaugurated by Ball, to hear another facet of that dialogue in multihued progress. When silence nearly ensues a few moments later, it is Rogers atomistically urging things along an apparently circuitous but slowly familiar path. The excellent recording quality allows each layer of the group conversation to be heard with absolute clarity, like at 2:43, when Ball's delicate pianism is countered by equally subtle but piquant percussion from Gibbs, an underrated guitarist if ever one existed.
There is a fair amount of such rapid-fire but nuanced listening and reacting at a fairly low dynamic level. I believe that it takes more focused energy to do this than to run full tilt with the muse, a practice to which this quintet has no objection. Listen to the wonderful tenor saxophone and trumpet exchanges about 4:12 into "Mind Listen to Me" to hear a bit of abandon in context, followed immediately by Dunmall's hill-and-dale exhortations and Gibbs' pointillistic responses. "The Final Hour" spends much of its time in reflective territory, and it's only in the 11th minute that things really heat up. One of the best moments of the disc belongs to Impett, happening at 12:07. I hesitate to describe it, but Dunmall joins right in. Use caution when listening, as it involves transient peaks.
What emerges most of all is a sense of fun, of the good will and comradery that shared creation brings. There is a sense of having journeyed, of taking the thorny path over new terrain and reaching the other side victorious. All involved slide in and out of the various sublimated traditions they bring to the table, and the whole is more complete because of it.
Comments and Feedback: