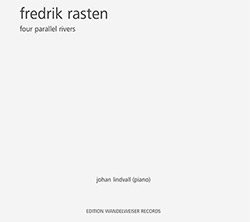 four parallel rivers is a selection of fifteen pieces for solo piano, performed by Johan Lindvall. It's a kind of bookend to Lindvall's release on the same label, giraffe, which consisted of fourteen solo guitar pieces, performed by Rasten.
The compositions all lie within the same general parameters: fairly slow, calm — even stately — music, with repeating or near-repeating segments that have, for this listener, a kind of processional feeling, of walking serenely through a space. A reference point might be quasi-similar parts of Howard Skempton's catalog, though I often trace music with this kind of aura back to Satie's compositions from the co-called Rosicrucian period, like the "Ogives". To take just one example, the title track begins with sets of soft, somber chords in groups of seven, five, two, three — varying the groupings constantly but keeping, as the title implies, a kind of flow, straddling regularity and irregularity, more of a slow tumble than a walk, perhaps or, if the latter, a hesitant one. Throughout the piece's 12 1/2 minutes, Rasten works subtle variations on this approach, maybe becoming slightly more regular over the duration, resulting in a very thoughtful amble that ends in a pace with just a little more determination. Really a wonderful performance.
The music is always gently contemplative, with soft arpeggios floating by like ripples, self-similar and different, generally tonal with the occasional welcome hint of tartness. A lovely recording all around.
Comments and Feedback: