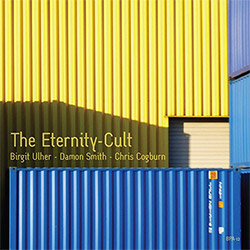 A blend of intonation and improvisation, The Eternity-Cult is a harmonies-across-the-seas program featuring the trumpet and objects of Birgit Ulher from Northern Germany with the double bass (Damon Smith) and percussion and electronics (Chris Cogburn) from the southern US. Despite geographical distances the three are equally committed to free-from improvisation. This disc's single 37-minute track finds the trio exploring textures and pitches from minimalist to embellished, while maintaining linear flow.
Ulher, who has worked with Smith in other contexts, deconstructs conventional brass tones by substituting dead air forced through the horn with no valve movement, mouthpiece sucking, stuttering blows and narrowed squeals. Swelling her adaptation of radio-sourced static as well as spitting yelps created by pressing the trumpet bell against unyielding objects, she frequently unearths distinctive leitmotifs when joined by crackling wave forms from Cogburn's electrified beats. Meanwhile whether the others produce whiny cries or concentrated buzzing, Smith's subtle and dedicated string strategies add extra pumps and shakes to preserve concentrated steadiness. During a few hushed interludes where Ulher's half-valve effects brush up against sul tasto rubs from Smith's bass and Cogburn's programmed voltage, hisses are also negotiated succinctly. Then at the two-thirds mark, the instant composition reaches a crescendo of string buzzes, metallic percussion rustles and portamento brass effects. Shaking and burbling, the resulting sequence settles into a conclusion that highlights joint innovative sound extensions; connective threads mean that unusual textures can be appreciated at many junctures.
Although no cult members are involved, the music itself has been captured for eternity.
Comments and Feedback: