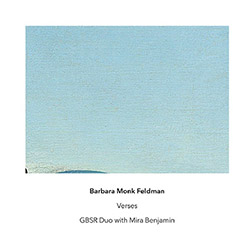 In Verses, Barbara Monk Feldman presents a series of gradualist compositions that balance simplicity and repetition with depth and lyricism. Indeed, the instrumentation is bare, ranging from solo piano to piano-percussion duos to one piano-percussion-violin trio. However, despite the pared-down ensemble and simple progressions, the five pieces on Verses are surprisingly sweeping.
I know I should escape the Morton Feldman framework. Given the close relationship between him and the composer, however, it is worth mentioning that Verses treads similar territory as Morton, but with a melodicism that he seemed to consciously avoid. That is both to his credit, and to Barbara Monk Feldman's. Indeed, the latter embraces it, but only to the extent that it serves her minimalist objectives. The melodies tumble forward but seem secondary to the slowly welling structure, the delicacy of each note and phrase that many composers today explore but into which Monk Feldman seems to have some uniquely deep insight.
Naturally, this has much to do with the compositions themselves, which, as far as I understand, are meticulously rendered in traditional notation and range a five-year period between 1988 and 1993. Much also relies on the musicians who realize Monk Feldman's vision. Mira Benjamin, a mainstay of the Apartment House collective and the go-to violinist for Another Timbre projects, appears on the epic The Northern Shore, the fourth track and only trio contribution. The rest of the pieces are solos ("Verses for Vibraphone", "The I and Thou "[presumably a nod to the Martin Buber's phenomenological book from 1923] and "Clear Edge") and one duo ("Duo for Piano and Percussion") performed by George Barton on percussion and Siwan Rhys on piano. These are powerfully understated musicians. Indeed, the pieces are somewhat disturbing in their barrenness and hesitant embrace of melody and what Monk Feldman refers to as the overlap of tonal colors. Barton and Rhys also capture that hesitancy to fall into the sweet phrasing trap, however, and imbue the pieces with an ambivalent balance between disconcertion and brightness and, as the album title hints, an understated versatility and poeticism that escapes many similar types of music and is overdone in many others. Introspective, incremental, and absolutely beautiful.
Comments and Feedback: