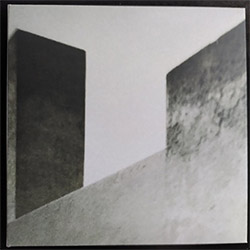 Three realizations of the title work, one in Berlin, one in Solothurn and one in Amsterdam on this two-disc release. Per the Meenna site, Nutters' "score of this composition is quite open and functions as a construction kit for each player to build their own version of the piece and to combine this material with the other players' findings. The score features roughly prescribed actions and forms, an open instrumentation, and flexible yet systematic pitch material."
All three realizations have a kind of similarity — all calm, unhurried, contemplative. But each contains a wealth of individualization. The Berlin set features Ensemble Post-music (Joanna Baille, voice, recording and playback device, piano; Lucio Capece, bass clarinet, playback device, frisbee; Heather Frasch, flute, inaudible objects; Nutters, voice, sine tones, tape/cassette player, movement) joined by guest musician Luke Martin on voice and guitar. It opens with a very full sense of the room, an audible atmosphere and general rustling. A female voice counts softly while a male voice reads from a text (including Ta-Nehisi Coates' "The Beautiful Struggle"). Bass clarinet offers a quiet kind of obligato. The work unfolds serenely, breaking in different directions, guitar and flute entering, something like a gently meandering stream. Hard to describe in more detail except to say that the 50-minute experience is a fine combination of invigorating, stimulating and relaxing — a wonderful work.
The Solothern (Switzerland) session includes the DNK Ensemble (Seamus Carter, voice, concertina, movement; Nutters, voice, upright bass, movement; and Martijn Tellinga, voice sine tones, movement) with guest Stefan Thut (voice, cello, movement). Given the instrumentation, especially the concertina, there's more in the way of extended tones, generally more intense than in the previous set, even verging on the shrill, though maintaining a similar calm. The "movement" referred to is quite evident, steps in what sound like wet, heavy boots are in evidence early on. There's nice space between the spoken voices, one close one blurred and distant. It's a shorter version, about a half hour, but the sense of concision achieved is a good balance to the lovely expansiveness of the Berlin set.
The final session, in Amsterdam, is the shortest, at 17 1/2 minutes. Once again we hear the DNK Ensemble (sans Tellinga), here accompanied by the Actualizing Community (Aaron Foster Breilyn, otamatone — a Japanese "toy" instrument, presumably the one that sounds rather like a melodica — and Thea Mesirow, cello). Cornelius Cardew's name is evoked at the start; I think the texts, or some of them, are his. Again, the gist of the performance involves long-held notes and everything is firmly embedded in the sounds of the room and environment, though I detect a sparer, more somber atmosphere. Along with the other two renditions, it gives one a decent idea as to the breadth of the work, how varied yet oddly similar readings it allows.
Rewarding and deep music, highly recommended.
Comments and Feedback: