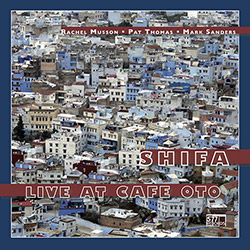 Part of a younger generation of British free improvisers, London-based saxophonist Rachel Musson joins slightly older UK players, drummer Mark Sanders and pianist Pat Thomas as Shifa, to not so much extend the free music form as to bolster its parameters. Musson uses capricious tenor techniques in a modal Energy Music mode throughout most of the first extended track, switching to crimped soprano tones on the seven-minute coda.
Someone who leads her own band as well as plays in the London Improvisers Orchestra, the saxophonist's hard-edged bites are well-integrated into the program, as is her gentler sonic outlay. Restrained in his contributions, Sanders' subtle rolls and rumbles only harden to power pumps when strengthening the soaring climax of the first improvisation. Meanwhile Thomas' slippery staccato slaps define the second improv, but only to the extent that his keyboard jumps intersect with reed tweets and strangled saxophone cries. The changes from peak intensity to relaxed interludes on "Improvisation 1" showcase the paced partnership, as mid-range keyboard clips and bubbling reed smears put into bolder relief those interludes in which the saxophonist's strained flattement and triple tonguing disrupts the exposition's logical progress. Over slippery piano patterns Musson later mixes ascending screeches and foghorn-like snores into a notable double attack until the drummer's bell-resonating clangs and resonations from Thomas' internal piano string plucks set up a climax where rhythmic echoes overcome altissimo reed squeaks, creating a finale featuring descending sax puffs and body shakes.
Confirmation of the in-the-moment creativity and extroverted cooperation among the players during this live set, it's no wonder Musson is becoming more celebrated. It also demonstrates how the unfazed response of the pianist and drummer to her every changeable musical challenge verifies their appeal as partners-of-choice in multiple free music situations.
Comments and Feedback: