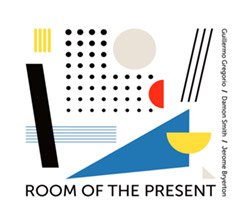 Designed as a salute from one creative artist to another, Room of the Present's focal point is two takes of a composition by Argentinean-American clarinetist Guillermo Gregorio celebrating Hungarian-American painter/photographer László Moholy-Nagy (1895-1946), whose transference of Bauhaus concepts to the US led to the creation of the Chicago Art Institute (CAI). An architect as well as an improviser who taught at the CAI, Gregorio's "Moholy" conduction not only honors the European polymath, but also showcases the musical architectural constructions of bassist Damon Smith's spicccato slashes and sul tasto rubs plus the percussive timbre expansion developed by Jerome Bryerton's rumbles, roars and roars alongside unexpected pulses encompassing cymbal hammering, brief bell pings, clave thwacks and maracas shakes.
If anything, it's Bryerton's startling drum and implements accents that best reflect the composer's and honoree's mercurial qualities on those tracks and the nine other improvisations. On "Improvisation 2" for instance, it's bell ringing which interrupts the bassist's thumps and the clarinetist's mid-range trilling. This mutates the linear theme in increments leading to an expansion of altissimo reed cries and low-pitched honks, resolved with reverberating drum pumps. Similarly, while "Madi Piece Nr. 2" begins as a moderated amble, splintering wood-like screeches, un-lathed metal vibrations and chain rattles disrupt the exposition spurring Gregorio to create slithering trills and Smith to output concentrated string swirls. As committed to experimentation as the others, the bassist uses tracks like "Cards" to exhibit his arco ability. On it his powerful bow strokes swell so that they quickly double clarion-pitched reed bites and elastic idiophone shakes to join later col legno strops and drum rolls that decisively challenge mellow reed vibrations.
Gregorio's rustic chalumeau register textures are displayed on other tracks as well, as are Smith's time-keeping strokes and buzzes and even Bryerton's drum shuffles. That means that a pronounced balance exists during the 11 tracks' evolution. Reflected throughout is a particular three-part harmony, no matter how unconventionally expressed. All this goes into the creation of superior art, whether it's Moholy-Nagy's painting and photographs or the music presented by this trio.
Comments and Feedback: