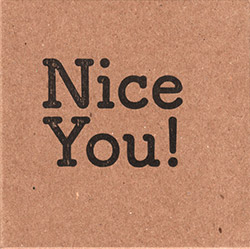 Nice You! comes in unassuming packaging. There are no questions to be asked when an album's cover is adorned with 'Nice You!' in thick black text. The sounds, however, that Dadge and Olive create belies this modest packaging; the sounds are totally foreign. Far from being exotic, these sounds surpass verbal comprehension. Classifying these sounds as belonging to the category music s doing Dadge and Olive a disservice. Demonstratives and definite descriptions do not suffice here. This is the domain of speculative, pondering groans and bemused utterances.
The album begins with "Nice You! 1." Musique concrete-esc metal scrapings and scratches scatter and sprawl over a dissonant hum. This dissonant hum then metastasizes into a parasitic drone, feeding off the silence like a sonic succubus. Atonal chimes ring throughout, swaying in the winds and howls of cacophony. Reverberated shrieks raise their heads and gasp for air only to dive back down in search of that oasis of solaced silence. The gale eventually relents, and that which had metastasized becomes benign momentarily.
If "Nice You! 1" is a cycle of dissonant howls, then "Nice You! 2" depicts the denouement of this storm. The track progresses as if it's in the throes of a shock-induced fugue, tripping over the rubble caused by its predecessor. Atonal gongs hang in the sonic space like perilously dangling portions of debris and detritus. A grief-stricken harmonica scours the scene for the remnants of what once was. Zephyrs of feedback static remind you that the storm is still over there, somewhere, looming insidiously.
Nice You! boasts sounds that do not belong to the category of "music". Ask me why I like this album and I cannot explain why; however, there is one thing that I can say and that is, Listen!
Comments and Feedback: