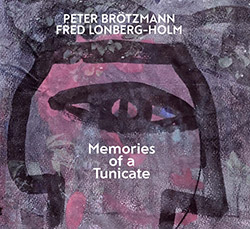 Recordings built on rarefaction and fragility cause the average reviewer to type sentences that might be dangerous for his/her (wannabe) profession. Case in point, "perfect to accompany reading or other home activities", roughly translatable as "I'm not listening attentively as a review requires". On occasion, I myself have fallen prey to this nonsense. Equally compromising would be, for this writer, to confess that during the first minutes of Memories Of A Tunicate twenty-five push-ups helped to psychophysically dissipate the considerable mass of energy coming from the speakers.
In fact, the sum of Peter Brötzmann (tenor saxophone, tárogató, Bb clarinet) and Fred Lonberg-Holm (cello, electronics) makes for a genuine battery recharge when everything else is going awry. This is the third duo release for the irascible romantics, after The Brain Of The Dog In Section (Atavistic, 2008) and Ouroboros (Astral Spirits, 2018). The titles of both album and tracks may refer to sea creatures, but the exchanges carried out by Brötzmann and Lonberg-Holm more often suggest conversations between prehistoric birds endowed with remarkable intelligence, biting eloquence and a tendency to altercation.
Brötzmann's phrasing touches all extremities of human expression. Angry as a sharp old man still not considered as a valid interlocutor by youngsters. Understanding as a lover who forgives a betrayal despite the deep pain. Garrulous as someone who needs to express dozens of concepts in the space of thirty seconds. Hearing those reeds translating the grumpy generosity contained by their player's heart is a duty for every serious student of modern music.
In decades of incessant activity, Lonberg-Holm has demonstrated an extraordinary ability to adapt to the most disparate situations, developing an autonomous and completely personal voice in the meantime. His cello's tone is predisposed to alterations, whether by sheer manipulation, dynamic control or extended techniques, or through the use of electronic devices rearranging its materiality altogether. He's an ideal partner for Brötzmann, the exact half of an equal dialogue providing a percipient audience with infinite keys to interpretation. Not only of the dialogue in question, but reality at large.
If that wasn't clear enough, Memories Of A Tunicate is a splendid statement. There's no reason of any kind not to add it to your collection of essentials.
Comments and Feedback: