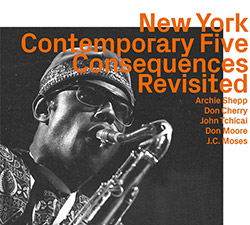 Ezz-thetics' Revisited series has released a stream of archival and remastered recordings recently, some of the most notable of which include John Coltrane's Graz 1962, Albert Ayler's Saints to Holy Ghost and Europe 1964, Charlie Parker's Savoy and Dial recordings, and The Heliocentric Worlds of Sun Ra volumes. Well, add the New York Contemporary Five's Consequences Revisited to the list of highlights.
To begin, Consequences Revisited presents a hell of a pair of line-ups at a critical juncture in nearly each of their careers and the evolution of free jazz more broadly. The first six tracks — the original Consequences remastered — feature Archie Shepp on tenor, John Tchicai on alto, Don Cherry on pocket cornet, Don Moore on bass, and J.C. Moses on drums. The final three tracks feature Ronnie Boykins, Sunny Murray on drums, and Ted Curson on trumpet (on tracks 7 and 8) in addition to Shepp, Cherry, and Tchicai. By the time these tracks were recorded in 1963, nearly every member had spent time with Bill Dixon and many had played with Roswell Rudd, both of whom are clear inspirations. (For his part, Dixon contributed the composition "Trio", which stands out in an openness that emphasizes the edges, frays, and contortions of horn tones rather than the energy and melody that propel most of the other tracks.) Cherry was waylaying between his stints with Ornette Coleman and Sonny Rollins and his future work with Albert Ayler. At the same time, Tchicai and Shepp were on the verge of breaking out in still different directions. Tchicai would serve stints with Coltrane, Ayler and New York Art Ensemble. Shepp would likewise work with Coltrane, before forging his own brand of fiery free blues and protest music. Murray, having played with Jimmy Lyons, would soon also branch into Ayler's circle with Cherry. As would the other musicians including Boykins, Curson, and, briefly, Moore and Moses, Murray would also spend a formative period in the New York loft scene and its sprawling descendants. (See Bill Shoemaker's deeply illuminative liner notes for more on the musical milieu that gave rise to this legendary but short-lived quintet.)
The music on Consequences Revisited is remarkable. Melodies are just tattered and stilted enough to grab your ear and toe-tapping enough to move at least some bop purists. The sultry rendition of Monk's " with Nelli" is the obvious case, but the freer tracks are similarly strangely melodious. Predictably, Cherry's trumpet channels Ornette's odd harmolodic spirals particularly in Cherry's own contributions "Sound Barrier" and "Consequences". (The latter of the two is the only track to appear twice on this album.) Indeed, one hears Cherry's continued reverence for bebop cacophony even as he articulates those broken lines with his characteristic colorful exuberance. Curson does an admirable job filling in for Cherry on two Shepp pieces taken from the 1964 Bill Dixon/Archie Shepp split, "Where Poppies Bloom (Where Poppies Blow)" and "Like a Blessed Baby Lamb", wherein he abandons Cherry's flamboyance in favor of bebop rat-a-tat. Tchicai and Shepp follow suit wondrously. Though they pack less fire than they would later display, hints of their later development pop up periodically. As might be expected, Shepp's contributions ("Rufus", "Where Poppies Bloom", "Like a Blessed Baby Lamb") carry the heaviest swing in an infectiously disorienting style. One hears echoes of Mingus, especially in the galavanting "Where Poppies Bloom", which begins with a contorted melody reminiscent of Eric Dolphy's work at the time. Tchicai's sole composition, "We Wo", captures a similar underlying energy and funnels it into a jaunty New Thing excursion with snaking Bird-and-Diz-styled head. Meanwhile, Don Moore and, on the last three tracks, Ronnie Boykins prove their be-bop chops. The drummers, JC Moses and Sunny Murray, pose stark contrasts that force the music into competing directions. On his work (tracks 1 — 5) Moses displays a spaciousness and rhythmic drive that unabashedly screams rootedness. On his contributions (tracks 7-9), Murray shows why he was such a singular and visionary drummer, desperately avoiding anything linear in favor of wide textural flourishes and broken bombardments of sound.
This is very much a recording of its time by some of the foremost free jazzers of their time. Even if it sounds its age, however, it does not sound treacly or dated. Rather, one hears the excitement in exploration and curiosity, the joyful blending of styles that, at the time, were still being developed to uncertain ends. It reminds me of what got me into this music in the first place. Cheers to ezz-thetics for another fine revisitation of a hitherto overlooked (by me, at least) classic.
Comments and Feedback: