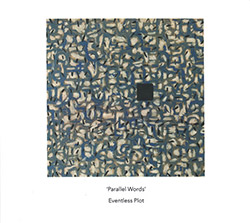 The trio Eventless Plot began in about 2000 when its members, Vasilis Liolios, Aris Giatas and Yiannis Tsirikoglou, met as students in Thessalonica, Greece. In 2009, Tsirikoglou moved to the Hague to study electronic music at the Institute of Sonology, while his bandmates remained in Thessaloniki, becoming involved in the city's music scene, hosting events and participating in various projects. Although the trio say the Thessaloniki scene is not large, consisting of small but significant groups of people working on remarkable projects and presenting them in small venues, having Tsirikoglou based in the Netherlands made it easier for the trio to organize live performances abroad, providing opportunities for them to find new sources of inspiration, and to meet new artists.
The music on Parallel Words comprises three pieces jointly composed by the trio, played by differing groups of musicians, depending on the requirements of each piece; the three compositions are very different to one another, highlighting the trio's willingness to explore and experiment. The eighteen-minute opener, "Cosmographia" is a four-part piece composed with a strict structure, although the transitions between the parts are so smooth and subtle as to be barely unnoticeable. Liolios plays psaltery, with Tsirikoglou on electronics, and four guest players on two violas, violin and clarinet; some players keep a steady pace, with others having freedom to create unique harmonic combinations.
Next up, the album's title piece, the longest at nearly twenty minutes, sees the arrival of Giatis on piano, alongside both Tsirikoglou and Liolis on electronics, and guests on flute, cello and viola. In keeping with its title, the piece sets up a tension between the pastoral calm of the piano and flute, and the edgier cello and electronics, to good effect. Different again, the closer, the twelve-and-a-half minute "Conversion", is one of the trio's favorite pieces; it features all three members on percussion plus contact mikes alongside the third appearance of guest violist Stefanos Papadimitriou; using contact mikes, the piece is an exploration of the sound sustains when different percussive surfaces — such as singing bowls, crotales, cymbals and sound plates — are struck, the results being mixed in effectively with viola. The variety of music across this album should ensure that it appeals to a broad spectrum of music lovers; it also signals a bright future for Eventless Plot.
Comments and Feedback: