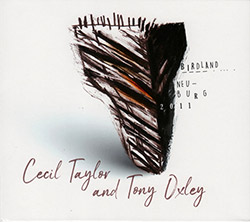 US pianist Cecil Taylor and UK drummer Tony Oxley first played together during Taylor's historic extended visit to Berlin in the summer of 1988. Like all of Taylor's performances with European musicians from that festival, his duo with Oxley was released on FMP singly and as part of the monumental eleven-disc box-set In Berlin '88, the Taylor-Oxley disc being entitled Leaf Palm Hand. After that festival, Oxley joined Taylor in The Feel Trio, with William Parker on bass, the group's releases culminating in the ten-disc box set Two T's for a Lovely T, recorded live at Ronnie Scott's in 1990. In Taylor's later years, he and Oxley most often played together as a duo, with two duo albums from 2008, in Berlin and NYC, being his last known recordings until the appearance of Birdland / Neuburg 2011. Poignantly, Taylor's last public appearance, before his death in April 2018, came in June 2015, at Riverside Church NYC, when he played at a memorial service for Ornette Coleman.
Given that the Taylor-Oxley duo began in Berlin, it seems fitting that it should conclude in Germany, albeit in the far smaller Neuburg an der Donau in Bavaria. Not only was the city smaller, so was the venue, Birdland, a basement vault which accommodated 112 fans on the night in question, November 18th 2011. Happily, the venue had Taylor's piano of choice, a Bösendorfer. Considering he was aged eighty-two at the time, Taylor was in excellent form. Across two tracks totalling fifty-eight minutes, his playing is energetic and immediately identifiable as no-one but him, rumbling bass notes contrasting dramatically with rapid-fire salvos of high notes as he flits across the keyboard.
According to an audience member who was present on the night, Taylor referred to written notes during the performance — not a score, but mainly capital letters written on paper. Be that as it may, Taylor never sounds as if he is following a plan, instead playing with spontaneity and free-flowing ideas. The partnership of Taylor and Oxley clearly displays their twenty-plus years together, as the drummer complements the pianist's playing perfectly throughout, seeming to know exactly what he will do next and sounding as if he is one jump ahead. Oxley respects the fact that Taylor's piano is the main focus and never does anything to steal the limelight. His playing sounds as free and easy as the pianist's yet always manages to enhance it. Whoever titled the Jazzwerkstatt album of this duo's 2008 Berlin concert, Conversations with Tony Oxley, got it just right. Together Taylor and Oxley never sound like a soloist and an accompanist but like two players on equal terms conversing with one another. This is text book duo playing, and a grand finale for Taylor's recording career. The prolonged ecstatic applause which closes the album says it all.
Comments and Feedback: